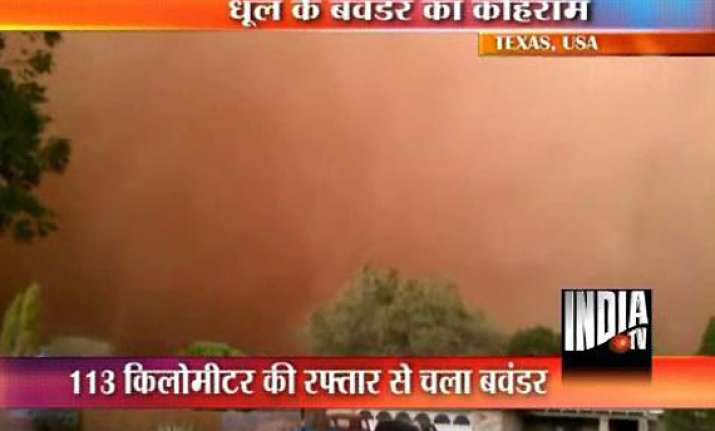 Lubbock, Texas, Oct 19: Winds gusting at more than 70 miles per hour (113 kilometres) churned up a dust storm that roiled through the Texas South Plains during the Monday afternoon commute, turning day into night in seconds.

In Lubbock, the 8,000-foot-high (2,438 metres) rolling dust cloud moved through the city just before 1800 local time (2300 GMT), dropping visibility to between zero and less than a quarter of a mile (0.4 km), according to National Weather Service meteorologists in Lubbock.

Dust storms such as these are commonly referred to as a "haboob" which is Arabic for "strong wind".

FAA controllers at Lubbock International Airport had to evacuate the tower and direct air traffic from a backup center on the tower's ground floor, Lubbock city officials said.
They also reported the wind left trees toppled, roofs without shingles and a small cargo plane at the airport overturned.

The dust cloud was yet another byproduct of the persistent drought in west Texas.

The US Drought Monitor map released last week showed much of Texas, including the South Plains, were still experiencing exceptional drought - the most severe category.

In an statement earlier this month, the National Weather Service in Lubbock reported that there was a high likelihood that 2011 could be the driest on record across the South Plains.