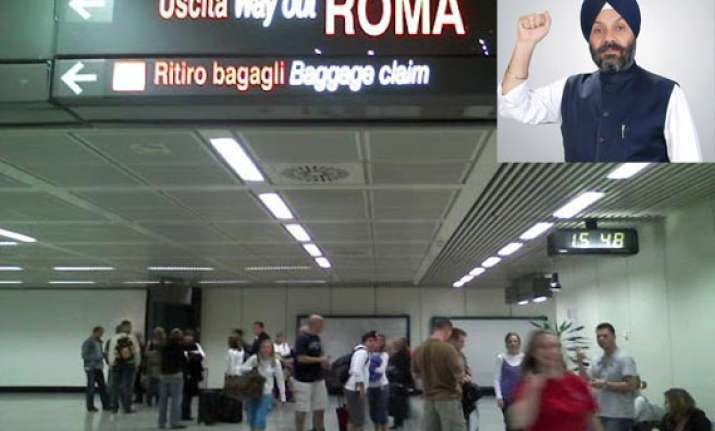 Rome/New Delhi, Aug 8 : Delhi Sikh Gurdwara Management Committee (DSGMC) president Manjit Singh GK was asked to remove his turban by security officials at Rome international airport  on Tuesday night.
"I was not allowed to depart for flight until and unless I removed turban. I refused and I am still waiting at the airport", Manjit Singh GK told India TV over phone from Rome.
Manjit Singh GK was asked to remove his turban during a security check at the Rome airport.
He was on his way from Rome to Dubai.  Following the incident DSGMC general secretary Manjinder Singh Sirsa led a protest of Sikhs outside Italian Embassy in New Delhi on Wednesday.
Meanwhile, Punjab Chief Minister Parkash Singh Badal  has urged the Centre to mount pressure on foreign countries so that turbans worn by Sikh travellers were not ordered removed for security checks at international airports.
Parkash Singh Badal said  turban was an integral part of the Sikh identity. He said it was unfortunate that DSGMC president Manjit Singh GK was asked to remove his turban during frisking at the Rome international airport. 
Terming removal of turban in the name of security checks a direct assault on Sikh identity,  Parkash Singh Badal said, it was a "direct assault on the Sikh identity badly tormenting their psyche".
He said Indian government must mount pressure on countries, resorting to this measure, to desist from such practices.
"This grave disrespect to the Sikhs is not at all tolerable," the Chief Minister said.
"The External Affairs ministry must tell respective foreign governments to accord due respect to the turban by desisting from such practices which have the potential to hurt religious sentiments of the Sikhs," he said.
"I will soon take up the matter with the Prime Minister and the External Affairs minister," Badal said.
In Ropar, Deputy Chief Minister Sukhbir Singh Badal, referring to the Rome incident, said this showed "Italy cares two hoots for India".
This was the third such incident at an Italian international airport in the past one year, the SAD chief said.
It was unfortunate that with a Sikh as Prime Minister and a Sikh lady as Minister of State for External Affairs, India had failed to protect Sikhs  in foreign countries, Sukhbir  Badal said.
Manjeet Singh, who was part of a DSGMC delegation said, the delegation offered to let security personnel  touch their turbans and run a metal detector over it, but the Italian security insisted that all of them take their turbans off. 
The delegation had gone to Italy to participate in "Turban Awareness Day" campaign.
Manjeet Singh described the attitude of the security personnel at Rome airport as insensitive. He said when the staff asked him to remove his turban, he tried to tell them that this was not possible as it defied the teachings of Sikhism.
"But they refused to understand. We even offered that the staff could touch the turban on the head and run a metal detector over it to ensure that security was compromised. But they refused and did not allow us to take the flight," Singh said.
"We have reported the matter to the Indian embassy in Rome. There are around 40 gurdwaras in Italy and we were here to attend the International Sikh Dastar (Turban) Awareness Day at the invitation of the Sikh Channel (UK) at Cremona," he added.
A statement issued by DSGMC office in Delhi quoted Manjeet Singh: "The Indian embassy in Rome intervened with the local officials and airport administration at the highest level but their efforts were unsuccessful. The Italian embassy in Delhi  and the Indian embassy in Rome had been informed about the visit of this delegation to Italy," Singh said.
The Italians insisted on removing the turbans despite having accepted it as a religious symbol in 2011.
Italy had at that time declared that Sikhs will not have to remove their turbans at airports for security screening, after strong protests by Sikhs and the Indian government.
The announcement was made by the Italian interior ministry after then external affairs minister S M Krishna took up the matter with his Italian counterpart Franco Fattini in Rome in June, 2011.
This followed a number of incidents involving Sikhs being asked to take off their turbans at Italian airports.