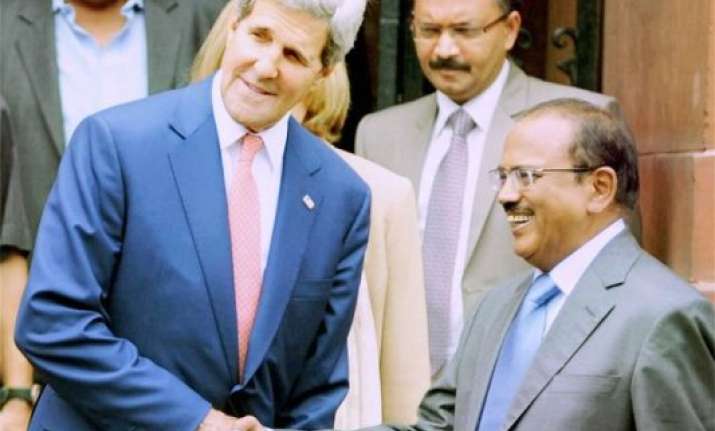 Washington: National Security Advisor Ajit Doval yesterday met US Secretary of State John Kerry and his American counterpart Susan Rice and discussed key bilateral and regional issues including India-US security cooperation and terrorism.
Kerry discussed India-US security cooperation and other topics of regional and bilateral interest, the State Department Spokesperson, Jen Psaki, told reporters at her daily news conference.
"The meeting built on discussions held during Prime Minister Narendra Modi's visit to the United States and covered issues such as defence, cooperation, international terrorism, terrorism finance, and law enforcement cooperation," Psaki said soon after the meeting.  
Observing that this meeting was an important step in reinforcing "shared resolve", Psaki said US-India joint statement issued after the meeting between the US President, Barack Obama and Prime Minister Narendra Modi reflected on their expanding cooperation to bolster national, regional, and global security.
Doval, who has extended his stay in the US for two days following Modi's trip to the country, also met US National Security Advisor Susan Rice, during which the White House said, they discussed how they can best build on the accomplishments from the Prime Minister's visit to Washington to strengthen the US-India strategic partnership for the benefit of citizens in both countries and beyond.  
"They exchanged views on regional developments, including cooperating on maritime security and the importance of reinforcing stability in Afghanistan after the inauguration of a new National Unity Government this week," the White House said.
"They agreed to work together to address global crises such as the outbreak of Ebola in West Africa and the spread of violent extremism, and looked forward to continuing close consultations in the future," the White House said.  
Earlier, Doval had met US Defence Secretary Chuck Hagel and discussed a range of issues, including the strategic Indo-US partnership and future areas of bilateral security cooperation.