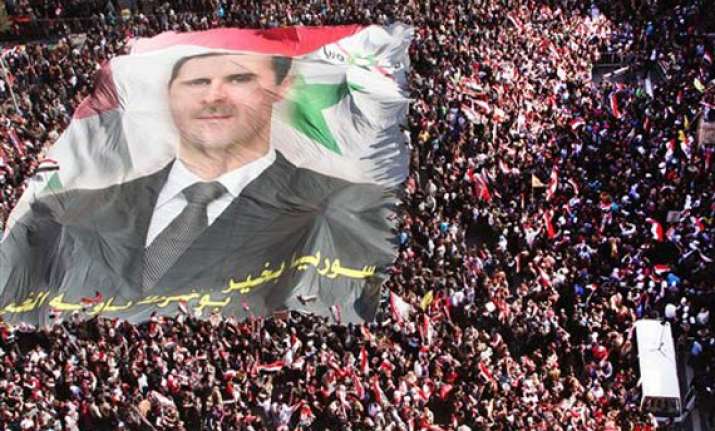 Damascus, Nov 21 : Syria on Sunday  brushed off the threat of a civil war and looming Arab League sanctions after a deadline for the regime to stop its lethal crackdown on protesters expired with 24 more people killed. 

Upping the ante, however, the Arab League called new crisis talks on Syria and said it rejected amendments proposed by President Bashar al-Assad's regime on sending a 500-strong delegation to monitor the violence in the country. 

And Turkish President Abdullah Gul said there was "no place for authoritarian regimes" in the Mediterranean region.

But Syria's Foreign Minister Walid Muallem dismissed as "wishful thinking" a warning by US Secretary of State Hillary Clinton that his country risked a descent into civil war. 

"When Mrs Clinton says the opposition is well-armed... it is, as they say in English, 'wishful thinking'," Muallem told a news conference.

Clinton had warned on Friday that Syria was at risk of a civil war following a daring attack on an air force intelligence base near Damascus by mutinous troops who call themselves the Free Syria Army.

Muallem also dismissed as "totally unfounded" reports that the offices of the ruling Baath party in Damascus had been hit by several rocket-propelled grenades earlier today. 

The reports came from rights groups and activists, but an AFP reporter who went to the area found no trace of an attack while local residents denied there had been explosions.

 The minister also waved off the significance of Arab League sanctions and slammed some states he accused of "using the Arab League as a tool to reach the (UN) Security Council."

The Arab League said its foreign ministers would hold crisis talks over Syria on Thursday, after it rejected changes proposed by Damascus to its proposal to send an observer mission to the country.

Muallem said he would pursue talks with Arab League chief Nabil al-Arabi over the observers, but insisted Arab proposals were "unbalanced" and undermined Syria's sovereignty.  "We in Syria do not consider that the deadline is the important issue.

The content is the important issue, and to reach an agreement with the Arab League is what counts. 

"We will seek every window of opportunity (to work with the Arab League) until the Arabs tell us we don't want you in the Arab League."

Muallem's comments came after Assad, who has ruled Syria with an iron fist for 11 years, vowed to fight and die if necessary, in an interview published in London's Sunday Times. 

The minister also confirmed the regime's defiant stance, saying: "If the battle is imposed on us, we will fight it."

At least 24 more people were reported to have been killed at the weekend, adding to the UN figure of the more than 3,500 deaths since mid-March in the Syrian crackdown on protests.

 Among the dead were four intelligence agents killed as gunmen raked their car with gunfire and two mutinous soldiers who died in clashes with regular troops in the central town of Shayzar, rights campaigners said.

With rebel troops inflicting mounting losses on the regular army, Turkey and the United States have both raised the spectre of civil war.

But in the interview conducted before the Arab deadline lapsed at midnight (2200 GMT) yesterday, Assad said he was "definitely" prepared to fight and die for Syria if faced with foreign intervention.