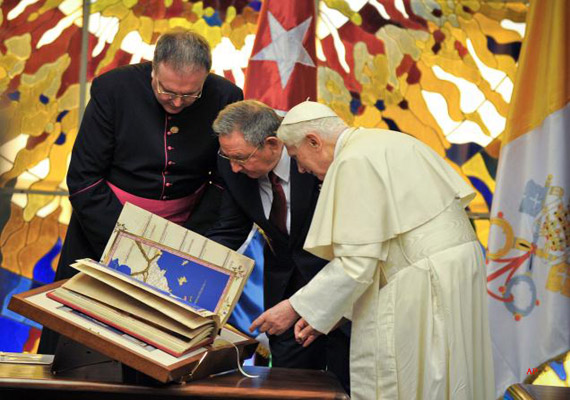 Havana, Mar 28 :The exchange came hours before Fidel Castro confirmed that he would happily meet Pope Benedict XVI before he leaves for Rome on Wednesday.
Mr. Castro made the much-awaited announcement at the end of a short opinion piece posted on a government website late Tuesday, saying he had decided to ask for "a few minutes of his busy time".
Expectations of a meeting have dominated the Pope's three-day visit to Cuba, which culminates with a morning Mass in Havana's Revolution Plaza.
On Tuesday, the pontiff had a 55-minute closed-door meeting with Mr. Castro's brother, President Raul Castro, in which the Catholic leader proposed that Good Friday be made a holiday.
There was no immediate response. The Vatican spokesman, the Rev. Federico Lombardi, said it was natural for the government to take time to consider such a request, which followed on the Cuban government's decision to declare Christmas a national holiday after Pope John Paul II's 1998 visit.
Asked if the Pope raised the matter of political prisoners or Alan Gross, a U.S. government subcontractor sentenced to 15 years in prison in Cuba on spy charges, Mr. Lombardi said "requests of a humanitarian nature" came up, but he had no information about whether individual cases were discussed.
The Pope spent nearly twice as long with Mr. Castro as he normally does with Heads of State, which Rev. Lombardi attributed to the pontiff's desire to get to know the Cuban leader.
Days after dismissing the Marxist ideology on which the Cuban system is based, Pope Benedict XVI continued to gently press themes highly sensitive to Cuban government in his prayer and short speech at the sanctuary of the Virgin of Charity of Cobre near the eastern city of Santiago.
"I have entrusted to the Mother of God the future of your country, advancing along the ways of renewal and hope, for the greater good of all Cubans," said the Pope.
"I have also prayed to the Virgin for the needs of those who suffer, of those who are deprived of freedom, those who are separated from their loved ones or who are undergoing times of difficulty."
It wasn't long before a top official back in Havana responded.
"In Cuba, there will not be political reform," said Marino Murillo, Cuban economist and a Vice-President.
The Pope has kept his language lofty, his criticism vague and open to interpretation, but Mr. Murillo's comments left no room for doubt.
Venezuelan President Hugo Chavez, in Havana receiving radiation treatment for cancer, sent his greetings to the Pope, but said there was no plan to meet him.
"They have their agenda. I'm not going to be interfering at all."