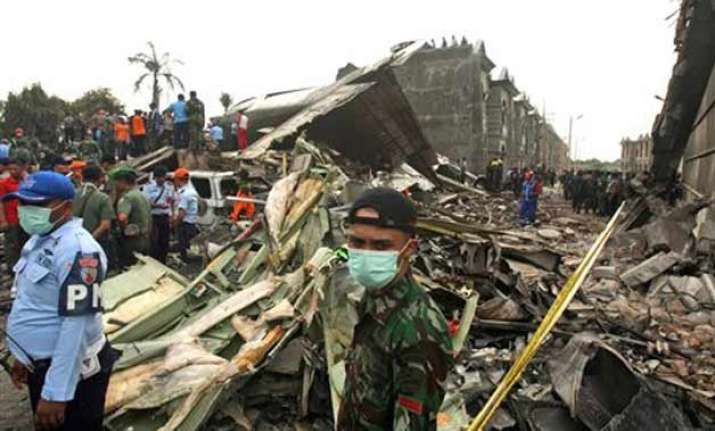 Medan (Indonesia): An Indonesian police official today said more than 140 bodies have been recovered from the crash of a military plane in Medan.
Rescue teams are searching rubble in the residential neighborhood where the plane crashed Tuesday but hold out little hope of finding survivors.
An Indonesian air force Hercules C-130 plane crashed into a residential neighborhood in Medan, the country's third largest city.
North Sumatra police Major A. Tarigan told a TV channel on Wednesday that 141 bodies have been recovered.
Air force chief Air Marshal Agus Supriatna said there were 122 people on the plane.
A total of 101 passengers and 12 military crew members comprising three pilots, one navigator and eight technicians were on board the plane, Agus said.
As there were only 122 people on board, other causalities seem to be from the neighborhood where the plane crashed.
Agus said the plane, serving Malang air force base, departed from Halim Perdanakusumah airport in Jakarta early Tuesday morning and made stopovers in Pekanbaru, Riau and Dumai to pick up troops being transferred to other regions.
Air force spokesman Dwi Badarmanto said the crash occurred not long before midday and just minutes after the plane took off from a Medan airport. A rescue effort was underway, he said.
It is the second time in 10 years that an air plane has crashed into a Medan neighborhood. In September 2005, a Mandala Airlines Boeing 737 crashed shortly after takeoff from Medan's Polonia airport, into a crowded residential community, killing 143 people including 30 on the ground.
Medan, with about 3.4 million people, is the third most populous city in Indonesia after the capital Jakarta and Surabaya.