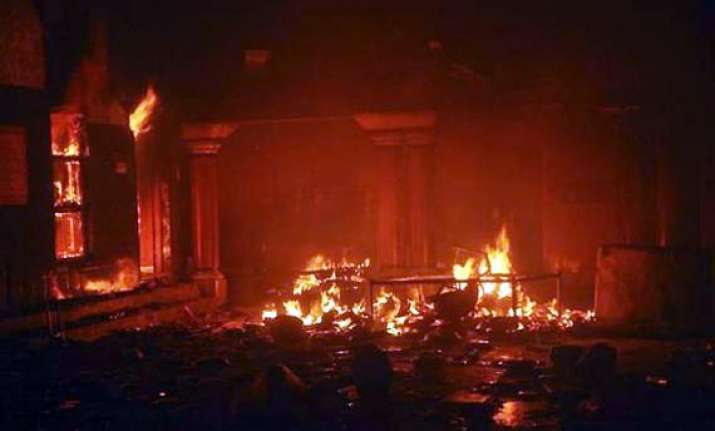 Karachi: A minor incident involving a Hindu tenant burning unused materials lying inside a rented house led to a major communal conflagration in Larkana of Sindh province on Sunday, with a mob setting fire to a Hindu temple and a dharmashala.  
Local Muslim residents alleged that pages of the Holy Quran was burnt by the youth while cleaning up his new rented room in New Leelabad.  
Soon groups of Muslims began to gather near the temple. They broke open the main gate of dharmashala with iron rods and after ransacking the place, set it on fire.  
Dr Dharampal, vice-president of district Hindu panchayat, said, 11 marble statues of gods and goddesses were desecrated and broken by the ramapaging mob inside the temple.  Several of these marble statues were imported from India, he pointed out.  
Curfew has been imposed in the locality of Larkana town and a bandh call was given by local Muslim organisations. Police and Rangers have been deployed in the area.  
The youth has been taken into "protective custody" by Sindh police and blasphemy charge will be levelled against him.  
The desecration and arson at the Hindu temple and dharmashala took place when local Hindus were celebrating Holi.  
Larkana is the hometown of the Bhutto family and stronghold of Pakistan People's Party. Patron-in-chief of PPP Bilawal Bhutto has appealed to his party workers to maintain calm.
Police had to fire in the air and lob teargas shells to disperse the mob that had gathered at the house of the Hindu youth demanded that he be handed over to the crowd.