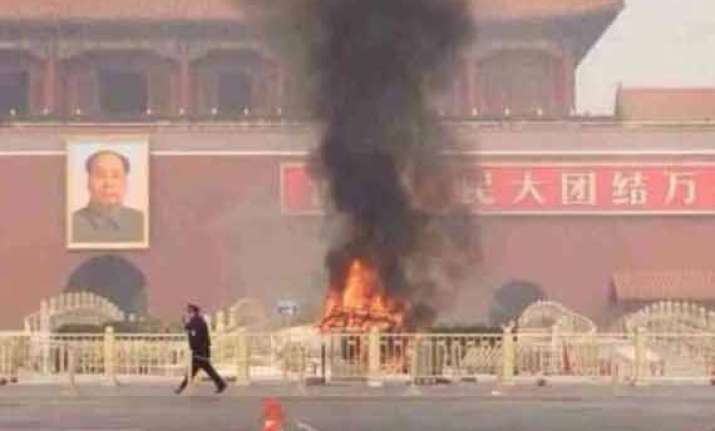 Beijing: China has executed eight militants from the restive Muslim-majority Xinjiang province for terrorist attacks including three who masterminded a suicide car bombing in the iconic Tiananmen Square here last year. 
The militants were involved in several terror cases connected to the northwestern region of Xinjiang, where China has blamed Islamist separatists for string of attacks that have rocked the country in recent months. 
The executions took place after Supreme People's Court upheld their death sentences, state-run news agency Xinhua reported today.
Three of the executed militants, named Huseyin Guxur, Yusup Wherniyas and Yusup Ehmet, masterminded the suicide attack, in which a mother, son and daughter-in-law rammed an SUV loaded with inflammable material into bystanders on the iconic Tiananmen Square in the heart of Beijing in October 2013.
The vehicle went up in flames at the entrance of the Forbidden City, killing five people, including the three attackers. It was the first suicide attack carried out by militants outside Xinjiang.
Five others who were executed were blamed for seizing of guns from police in Aksu, illegal manufacturing of explosives and murder of civilian in Kashgar, establishment of terrorist organization, murder of government officials and incineration of checkpoint in Hotan, Xinhua reported. 
The news of the executions were released by the official media late last night and television showed all of them facing trial.
Xinjiang, where the native Uygur Muslims were restive over the increasing settlements of Hans from other provinces faced increasing attacks stated to have been organized by the East Turkestan Islamic Movement (ETIM), an al-Qaeda backed organization, which gained traction in the province bordering Pakistan Occupied Kashmir (POK) and Afghanistan. 
Last year the attacks spilled out of Xinjiang and grew most violent with militants targeting crowded areas like railway stations where waiting passengers were hacked with cleavers and daggers.