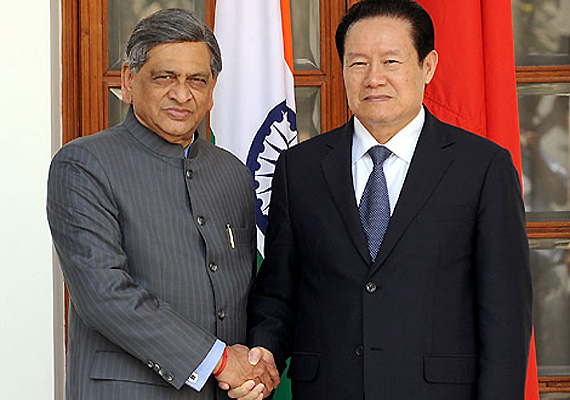 Beijing, Feb 8: China today "appreciated" India's support in dealing with pro-Tibetan independence forces, following a spate of self immolations by Buddhist monks after New Delhi offered "any help" to ease tensions and said that Tibetan issue is Beijing's internal affair.  

The tense situation prevailing in Tibet and the Tibetan inhabited areas in China, following immolation attempts and recent violent incidents figured in the talks between External Affairs Minister S M Krishna's and senior Chinese leaders here today.

"We did discuss Tibetan issue also. It is government of India's position that the Tibetan Autonomous Region is part of the People's Republic China, (PRC) as a result of that we are dealing with internal affairs of China," Krishna said, while briefing Indian media after the talks.

"Hence we have to be very cautious and any help that we can render to ease the tensions, we are too willing to do it. But I do not think that situation will ever arise," he said, replying to a question whether the Tibet issue was raised by China during his talks.

Sixteen Buddhist monks have attempted self immolations in the recent months and two persons have been killed in recent violent demonstrations in Sichuan province, bordering Tibet.

Praising India's stand, Zhou Yongkong, a member of the Politburo Standing Committee of the ruling Communist Party of China (CPC) told Krishna that China appreciated it.

"Tibetan issue concerns the core interest of China. The Chinese Government firmly penalises according to law the separatist activities of the so-called 'pro-Tibet Independence', and safeguards the territorial integrity," a statement issued by the Chinese Foreign Ministry quoted Zhou as telling to Krishna during their meeting.

"China appreciates the firm support of the Indian government over this issue", the statement added. It quoted Krishna as saying that "Tibet is part of the People's Republic of China, and the Indian government does not allow any force to use the Indian soil to carry out any anti-China activities".

"India-China cooperation in various areas have been fruitful in recent years. The two countries kept good coordination and cooperation on important international affairs. The India Government is committed to consolidate and develop friendly cooperation with China," Krishna said, at the meeting according to the press release.

Elaborating on India's stand, Indian officials said India is striking a cautious note on the Tibetan situation and want to reiterate that New Delhi is sticking to its previous stand that Tibet is part of China.

India also reportedly reiterated the stand that the Dalai Lama is an honoured guest and his activities were not political. China yesterday blamed the Tibetan Youth Congress for the violence and self-immolations and vowed to put down the violence.

Besides meeting Zhou, Krishna who was here to inaugurate the new USD 10 million Embassy building met had a luncheon meeting Chinese Foreign Minister, Yang Jiechi followed by meetings with Wang Jiarui, a senior official of the International Department of the CPC and top Chinese diplomat and State Counsellor, Dai Bingguo.

What started as a private visit aimed opening the Embassy, Krishna's visit went well with senior Chinese leaders coming forward to meet him, officials said.

Welcoming, Krishna Zhou Yongkong expressed satisfaction over the pace progress in the Sino-India relations. here is enough space and opportunity for the people of both the countries to develop together.

The bilateral relationship made good progress and "we are satisfied with the progress," he said.

In his meeting with Krishan Dai said though it is a private visit has become more than a visit.

"I believe the two neighbours certainly engaged in flexible and practical ways to increase the exchanges". For his part Krishna praised Dai playing a positive role in improving India-China relations.

"We consider you as genuine friend of India. It would not be an exaggeration to say that you guided the growth of our relations during the last decade".

In his press briefing, Krishna said in his talks with Yang he proposed that 2012 to be year of friendship and cooperation, which Chinese leader has accepted which would help the talks between the leaderships of the two countries going.

He said based on his invitation Yang may visit, India before President Hu Jintao's visit to New Delhi to attend BRICS summit to be held on March 28.

On the border issue, he said the special representatives were engaged in finding a solution and come up with an agreement. He said border is a complex issue and the two sides had put in a mechanism recently to sort out any problems arising at the border.

The first meeting of the border mechanism would be held shortly. Variety of global issues including Syria, Iran, Afghanistan, cooperation in G-20, climate issue and WTO negotiations figured.

"It is a very satisfying day as it is it is launch of a process of engagement with Chinese friends regarding the way forward in 2012 on a variety of issues.