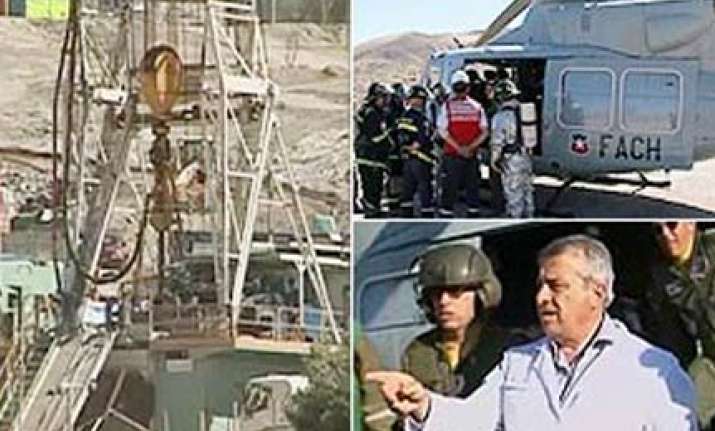 Copiapo:  Officials in Chile conducted a rehearsal of evacuation procedures on Thursday in anticipation of the day when 33 trapped miners begin to be brought to the surface.
Once above ground, the miners will be evaluated for approximately 45 minutes to an hour, before being moved by helicopter to a 'stabilisation area' where they can be reacclimatised to life on the surface, said Chilean Minister of Health Jaime Manalich.Manalich himself traced the journey the miners will make, accompanied by rescue officials.
A rescue worker also demonstrated the type of sunglasses the miners would wear once above ground.The miners will don the sunglasses in order to prevent harm to their eyes, which will be unused to bright light having spent over two months underground.Earlier, Chile's Mining Minister Laurence Golborne said the escape shaft should reach the trapped men by Saturday.
He added that once the drill breaks through, it could take anywhere from three to 10 more days to pull the miners to safety.The countdown can't really begin until they determine whether to insert a steel sleeve in the shaft.That could reduce the risk of something going wrong on the miners' way up, but attempting to lower a straight pipe through a curved shaft could also cause problems.
Golborne insisted on Thursday that the decision would be based entirely on technical factors once a video camera can examine the shaft's walls.
Expectations have been high amongst the families that a rescue is only a matter of days away, after the country's president Sebastian Pinera said this week that his government was close to pulling the trapped miners to safety.Pinera said he hoped to be there in person to see the rescue before leaving on a trip to Europe on October 17.AP