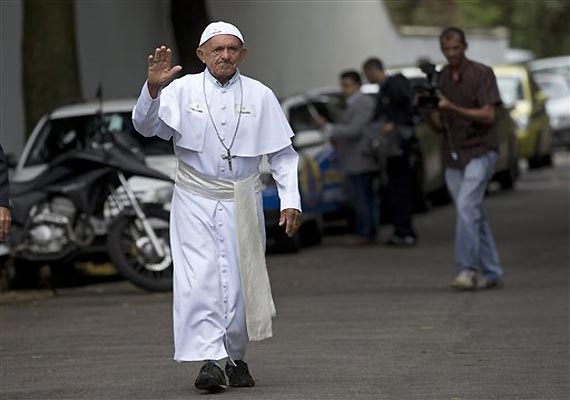 Rio de Janeiro, Jul 24: Rio de Janeiro's subway broke down, causing chaos for throngs of pilgrims in town for a huge Catholic gathering and a papal visit already marked by security lapses.
Crowds of people crammed into buses, scrambled to find taxis or walked to Copacabana beach for an evening mass to officially kick off World Youth Day on Tuesday.
Despite the traffic trouble and some rain drops, the Vatican said 560,000 pilgrims from around the world made it to the beach, singing, waving flags and praying as Rio Archbishop Orani Tempesta led the mass.
Latin America's first pope, who arrived Monday, rested in a hillside residence but sent a message to his flock via Twitter: "Dear young friends, Christ has confidence in you and he entrusts his own mission to you: Go and make disciples."
Getting to the beach became complicated for many pilgrims after a metro power cable broke, causing the city's two subway lines to shut down for two hours, officials said.
"The organization was a bit messy, but we're figuring things out little by little," said Fernando Cila, a 22-year-old from Buenos Aires, the pope's home city.
The metro breakdown came as local authorities grappled with security lapses during the pope's arrival on Monday, when crowds were able to approach his car and touch the 76-year-old Argentine pontiff despite massive security.
Rio's organization of World Youth Day and the visit of Pope Francis are seen as a test for its ability to host World Cup games next year and the Olympic Games in 2016.
Last month's Confederations Cup, an international soccer tournament seen as a dry run for the World Cup, was marked by massive protests over the country's poor public services, corruption and the billions spent on hosting sporting events.
Despite the metro's stoppage, people remained upbeat near a downtown station, with many singing and smiling as they looked for alternative ways to the beach.
Some chanted "This is the pope's youth!" Local radio, however, said police had to block a group of angry passengers from trying to rush into the Botafogo Metro station. At another station, commuters demanded explanations from metro employees.
"We'll walk," said Henry Lobo, a 29-year-old Venezuelan in town with pilgrims from Caracas. "We don't have another choice."
Two Italian priests waited at the corner of a boulevard hoping to hail a cab.