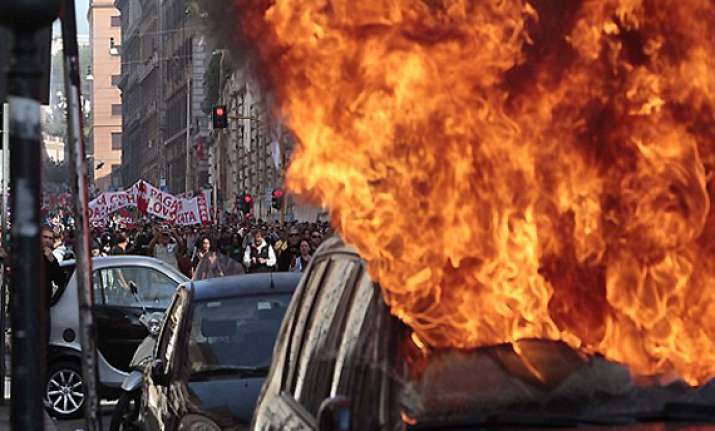 New York/London/Paris/Hong Kong, Oct 16: Hundreds of thousands of people gathered at more than 950 demonstrations in more than 80 countries as protesters marked four weeks since the rallies against the global financial system began.


Violence erupted in Rome, as protesters resorted to stoning and set fire to at least two vehicles, while a 60,000-strong crowd gathered in Madrid.

More than 20,000 people marched in New York to Times Square as part of Occupy Wall Set movement.




More than 70 people were arrested in New York's Times Square as protesters jostled with police on Saturday after thousands marched from the city's Financial District to midtown Manhattan, reports Daily Mail.

The protesters swamped the iconic square, stopping traffic as the numbers swelled to 20,0000 in what was thought to be the largest Occupy demonstration in the U.S. so far.




The arrests marred what police said was a largely orderly march, one day after the privately-owned Zuccotti Park's landlord backed down from an attempt to move the demonstration.

Many of the protesters in Times Square came from around the country and did not come up from the encampment.




The New York demonstration came as protesters held marches across the world. In Rome shop windows were smashed, reporters attacked and cars torched as the global 'day of rage' erupted into violence.




In New York - where the protests first started - thousands of people are preparing to occupy Times Square in what is being called 'The Occupation Party'.




In Rome, protesters smashed car windows, set at least two vehicles on fire and assaulted two Sky Italia news crews, the channel reported. Others burned Italian and European Union flags.

Black smoke billowed into the air in downtown Rome as a small group of violent protesters broke away from the main demonstration.




Italian police fired tear gas and water cannons as protesters who had smashed shop and bank windows, torched cars and hurled bottles.




It came a day after Premier Silvio Berlusconi barely survived a confidence vote as Italy, with a national debt ratio second only to Greece in the 17-nation eurozone, is rapidly becoming a focus of concern in Europe's debt crisis.

Demonstrators worldwide shouted their rage against bankers and politicians they accuse of ruining economies and condemning millions to hardship through greed and bad government but most other protests were carried off peacefully.




Galvanised by the Occupy Wall Street movement, the protests began in New Zealand, rippled round the world to Europe, before returning to to their starting point in New York.




Organisers hoped to see non-violent demonstrations in 951 cities in Asia, Europe, South America and Africa in addition to every state in the United States.




Some of the biggest gatherings were seen in Spain where 60,000 people joined demonstrations in Madrid's Puerta del Sol and 20,000 marched through Seville.

Tonight protesters are gathering for a mass occupation of Times Square in New York City in what organisers are calling 'The Occupation Party'.




Marchers, many dressed in white, are making their way to Times Square for a rally at 5pm EDT, when the area typically is crowded with tourists and Broadway theatregoers.




'At the present time, Broadway matinee and evening shows will go on as scheduled,' Charlotte St. Martin, executive director of the Broadway League, said in a statement.

As many as 2,000 protesters in Manhattan earlier paraded to a Chase bank branch, banging drums, blowing horns and carrying signs decrying corporate greed. 'Banks got bailed out. We got sold out,' the crowd chanted.




A few protesters went inside the bank to close their accounts, but they group didn't stop other customers from getting inside or seek to blockade the business.

There were reports of at least some demonstrators being detained by police on Saturday afternoon at a Citibank branch during the march.




Marchers throughout the country today emulated them in protests from Boston to Jackson, Mississippi.

In Washington, hundreds of protesters turned out, while a couple of thousand people gathered peacefully in Toronto's St. James park, a few blocks from the city's financial district.

Some 2,000 police were on hand to keep the Rome demonstrators, who call themselves 'the indignant ones', peaceful and to avoid a repeat of the violence last year when students protesting over education policy clashed with police.




As some 750 buses bearing protesters converged on the capital, students at Rome university warmed up with their own mini-demo on Saturday morning.

The carried signs reading 'Your Money is Our Money', and 'Yes We Camp', an echo of the slogan 'Yes We Can' used by U.S. President Barack Obama.




In imitation of the occupation of Zuccotti Park near Wall Street in Manhattan, some protesters have been camped out across the street from the headquarters of the Bank of Italy for several days.

The worldwide protests were a response in part to calls by the New York demonstrators for more people to join them.

Most rallies were however small, non-violent and barely held up traffic.




Demonstrators in Italy were united in their criticism of Prime Minister Silvio Berlusconi and angry at his victory in a vote of confidence in parliament on Friday.

The government has passed a 60 billion-euro austerity package that has raised taxes and will make public health care more expensive.

New Zealand and Australia got the ball rolling on Saturday. Several hundred people marched up the main street in Auckland, New Zealand's biggest city, joining a rally at which 3,000 chanted and banged drums, denouncing corporate greed.




About 200 gathered in the capital Wellington and 50 in a park in the earthquake-hit southern city of Christchurch.

In Sydney, about 2,000 people, including representatives of Aboriginal groups, communists and trade unionists, protested outside the central Reserve Bank of Australia.

'I think people want real democracy,' said Nick Carson, a spokesman for OccupyMelbourne.Org, as about 1,000 gathered in the Australian city. 'They don't want corporate influence over their politicians. They want their politicians to be accountable.'




Hundreds marched in Tokyo, including anti-nuclear protesters. Participants marched outside the Tokyo Electric Power Co., which operates the tsunami-hit Fukushima Dai-ichi nuclear plant, chanting anti-nuclear slogans, while opposing the U.S.-led Trans-Pacific Partnership free trade bloc that Japan is considering joining.

In Manila, capital of the Philippines, about one hundred people marched on the U.S. embassy under the Philippine left-wing alliance, Bayan, waving banners reading: 'Down with U.S. imperialism' and 'Philippines not for sale'.

They carried a large banner that said, 'Resist imperialist plunder, state repression and wars of aggression,' and another expressing 'Solidarity action for Occupy Wall Street', according to MSNBC.

They also chanted 'U.S. troops, out now!' in reference to the presence of hundreds of U.S. soldiers, mostly in the southern Philippines, involved in anti-terrorism training of Filipino troops.





More than 100 people gathered at the Taipei stock exchange, chanting 'we are Taiwan's 99 percent', and saying economic growth had only benefited companies while middle-class salaries barely covered soaring housing, education and healthcare costs.

They found support from a top businessman, Taiwan Semiconductor Manufacturing Corp (TSMC) Chairman Morris Chang.

'I've been against the gap between rich and poor,' Chang said in the northern city of Hsinchu. 'The wealth of the top one percent has increased very fast in the past 20 or 30 years. Occupy Wall Street is a reaction to that.'

Demonstrators also converged on the City of London under the banner 'Occupy the Stock Exchange'.

'We have people from all walks of life joining us every day,' said Spyro, one of those behind a Facebook page in London which has drawn some 12,000 followers.




The 28-year-old, who said he had a well-paid job and did not want to give his full name, said the target of the protests as 'the financial system'.

Angry at taxpayer bailouts of banks since 2008 and at big bonuses still paid to some who work in them while unemployment blights the lives of many young Britons, he said: 'People all over the world, we are saying: "Enough is enough".'

Greek protesters called an anti-austerity rally for Saturday in Athens' Syntagma Square.

'What is happening in Greece now is the nightmare awaiting other countries in the future. Solidarity is the people's weapon,' the Real Democracy group said in a statement calling on people to join the protest.




In Paris protests were expected to coincide with the G20 finance chiefs' meeting there.

Germany, where sympathy for southern Europe's debt troubles is patchy, the financial centre of Frankfurt and the European Central Bank in particular are expected to be a focus of marches called by the Real Democracy Now movement.

In South Korea, activists began gathering on the streets of Seoul with the country's paper, the Korea Herald reporting that a coalition of 30 local civic groups planned to hold a two-day protest in the main financial district of Yeouido and other parts of the capital.

The protesters, who have adopted slogans and imagery used by those in the U.S., say the rally is designed to motivate '99 percent of Koreans' to complain about the actions of the wealthiest 'one  per cent', the paper said.

'The situation is the same in South Korea (as the U.S.), where the financial institutions have speculated to earn high profits in a short time, creating victims,' the coalition said in a statement, the Herald reported.

Seoul police warned that damaging public facilities, occupying roads and assaulting police officers would not be tolerated, the Herald said.

'We will arrest those who stage illegal protests on the spot and also seek legal action even after the rally ends,' the Seoul Metropolitan Agency said in a release, the paper reported.

In Canada, protests were planned for Saturday in cities including Montreal and Vancouver. In Toronto, demonstrators plan to gather at Canada's main stock exchange.

In New York's Wall Street, police have been accused of shocking brutality after videos emerged showing officers in punching Occupy Wall Street protesters and mowing them down on motorbikes.

As demonstrations turned bitterly violent, hundreds of protesters clashed with police as they marched in Manhattan - jumping over barriers, pushing over police scooters and blocking traffic.

Officers in turn seem to have responded in the most draconian manner. In one clip a policeman appears intentionally to run over a protester, trapping his leg under his motorbike's back wheel.