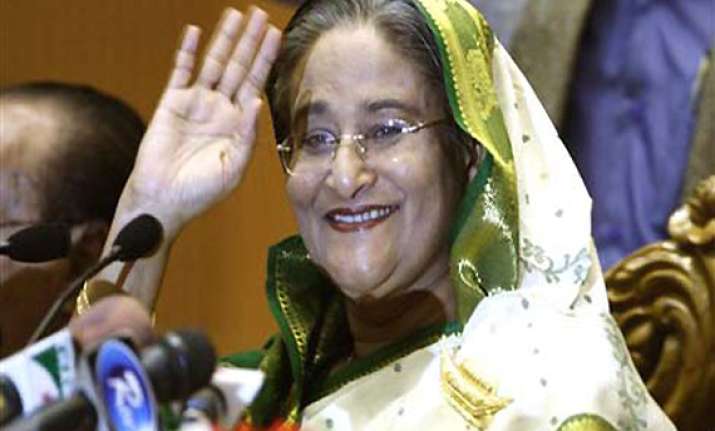 Agartala, Jan 11: Bangladesh Prime Minister Sheikh Hasina today called upon India to come forward with more "liberal attitude" to solve common problems between the two countries.

Bangladesh wants a cordial relation with its neighbours to jointly solve their common problems, she told a business meeting of the two countries here.

"Poverty is common enemy of both the countries and it can be fought if the two countries come forward with true neighbourly spirit. Poverty can be alleviated up to some extent if the two countries cooperate each other, creates infrastructure for trade and commerce, develop better communication system and enhance trade," she said.

"Many of our problems were solved when the prime ministers of the two countries visited each others and agreed to bilateral issues. We have solved many problems but many issues still remained unresolved which needs to be addressed properly," she said.

According to Hasina, "Some issues like dispute of demarcation of land between the two countries were solved and we are discussing regarding the sharing of water and I hope India would come forward with more liberal attitude to solve the problem."

More infrastructure should be built to develop communication between the two countries, she said, adding Bangladesh was interested to extend communication through India with Nepal and Bhutan because her country wants to provide facilities to those countries for using Chittagong and Mongla port.

Hasina said Bangladesh has extended facilities to Tripura for transhipping goods from Kolkata via Ashuganj port and Agartala-Akhura rail link was in progress which would create lot of opportunities for the business communities of both the countries.

Tripura Chief Minister Manik Sarkar expressed his gratitude for allowing to bring heavy equipment for 726 MW Palatana gas based power project via Bangladesh.

Taking a cue from Sarkar's lecture, Hasina said, "We hope that India would sell a portion of power to Bangladesh generated from Palatana project which would help our country to get rid of power shortage."

She said Bangladesh also would like to buy share of the Palatana project.

Hasina also congratulated Prime Minister Manmohan Singh for allowing many Bangladeshi goods without imposing tax.

"There is huge trade imbalance between Bangladesh and India. But I congratulate Indian Prime Minister Manmohan Singh for allowing many Bangladeshi goods without imposing tax", she said.

Hasina appealed to the Indian investors to invest more in the neighbouring country and assured that Bangladesh would create more opportunities and adopt more liberal attitude towards the Indian investors.

She said her country wanted peace and tranquility in the region because it creates good neighbourly relations and create opportunities for enhanced trade with the neighbouring countries.