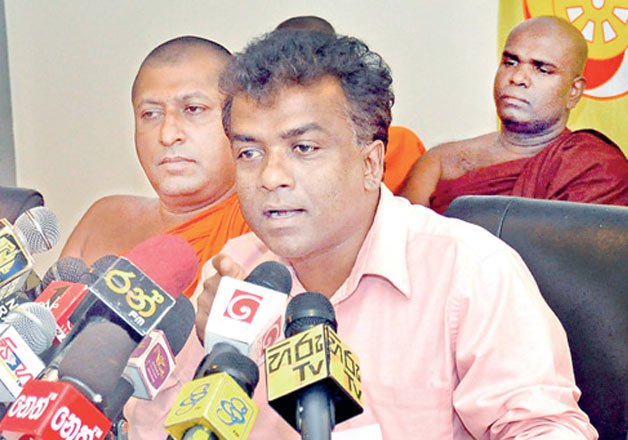 Autocrat Sinhalese Buddhist Nationalist Organization of Sri Lanka – Bodu Bala Sena (BBS) wishes to make a political party on the lines of BJP and RSS. 
The chief executive of BBS, Dilantha Withanage, exclaims in an interview to Indian Express, "We wish we had a leader like Narendra Modi."
Reportedly, the organization was accused of attacking Muslims and Christians in Sri Lanka last year which is also said to be the reason of former President of Sri Lanka Mahinda Pakshe's losing votes of minorities in the recent presidential elections.
He further told to the Newspaper Daily that his group is registered as a company in the island nation and that he is inspired by BJP and RSS and would soon launch "a party modeled on these Indian ventures to protect Buddhist culture in Sri Lanka."
Raising a suspicion, Withanage further said, "We have a very positive understanding with Modi. We admire him as a leader. Unofficially, there have been personal relations and talks with RSS and BJP leaders…We will soon launch active political talks with our Indian counterparts."
He even went on to say that what his organization does in Sri Lanka for the Buddhist religion is highly inspired by the activities of BJP and RSS in India claiming further that his current situation, where his party BBS is being portrayed as a religious terrorist organization, is very similar to what Modi faced as CM during the 2002 riots of Gujarat.
He boasted of his party that they are not against any religion and that they do not spread hatred against anyone. However, he agreed that they do deliver hard speeches on their personal beliefs but all this is only to protect Buddhist values in Sri Lanka.
Further he talked about similarities between India and Sri Lanka also that both the countries face threats from Muslims and minorities who are actively engaged in conversions.
As a matter of fact, the Bodu Bala Sena which has its Headquarters in Colombo, is a group of disciplinarians who have broken from their parent group Jathika Hela Urumaya (JHU) or National Heritage Party in 2012. They aimed to protect Buddhism by doing this.