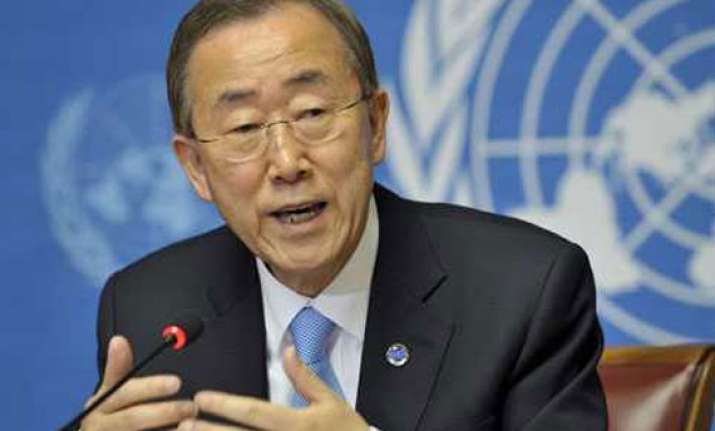 United Nations: Condemning as 'unjustifiable and shameful' the shelling of a UN-run school in Gaza sheltering thousands of displaced Palestinians, UN Secretary General Ban Ki-moon on Thursday said those responsible for the attack should be held accountable.
The UN Chief, speaking to reporters on his arrival in Costa Rica, reiterated his call to Israel to ensure safety of United Nations sites and security of women, children and families seeking protection there.
"Nothing is more shameful than attacking sleeping children. I condemn this attack in the strongest possible terms. It is outrageous. It is unjustifiable. And it demands accountability and justice...I call on the parties to stop the fighting and agree on an immediate, unconditional ceasefire," Ban said.
The UN school in the Jabaliya refugee camp in northern Gaza, which was sheltering more than 3,000 homeless people, came under attack from Israeli tank shells this morning, killing 20 people, including children, and injuring several others.
It is the second time in a week that a UN school housing refugees has been hit. Last week, 16 people were killed and hundreds wounded when another school in northern Gaza was hit.
The UN Chief said, "All available evidence points to Israeli artillery as the cause of the reprehensible attack."
Ban noted that the 'precise' location of the Jabaliya Elementary Girls School had been communicated to the Israeli military authorities "17 times" and as recently as last night, 'just a few hours before the attack'.
Ban said the Israeli military authorities were aware of the coordinates and exact locations where these people were being sheltered.
"Families had been instructed to seek sanctuary at UN sites, including the one repeatedly shelled today," he said.
Denouncing the latest 'tragic' developments in Gaza, Ban said about 1,300 people have been killed and almost 6,000 people have been wounded.
The United Nations is hosting 140,000 displaced persons in its facilities, including many schools.
Ban reiterated his call that all parties must immediately stop the violence and return to the dialogue table to address the 'root causes, which have already been identified, whatever legitimate causes or grievances they may have'.