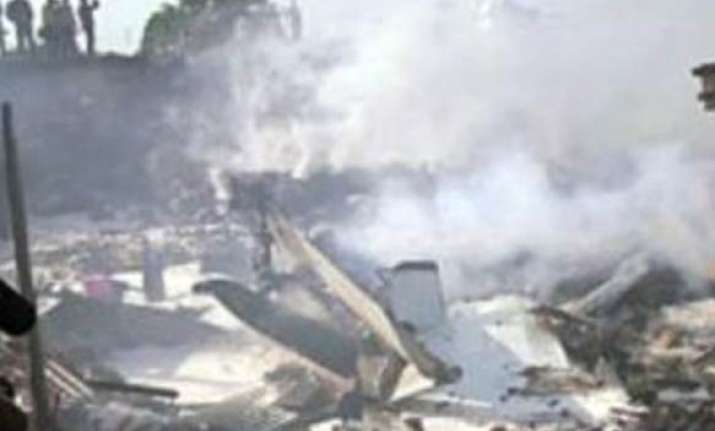 Kinshasa (D R Congo), July 8:  At least 46 people died when a plane crashed as it attempted to land in heavy rain in eastern Democratic Republic of Congo Friday, the air company said.

The commercial plane, operated by Hewa Bora Airways and carrying 118 passengers and crew, crashed at Kisangani airport in the northeast of the country.
"We have recovered 44 bodies and there were two injured who died in hospital, bringing the number of dead to 46," Hewa Bora president Stavros Papaioannou said, adding that the toll could rise.

The company head said the crew of the Boeing 727 were among those killed but that 53 people had survived the crash.  There was no word on the fate of the other 19 people on board.


"They arrived at Kisangani, there was bad weather, they tried to land without reaching the runway," he said, adding that heavy rains at the time had hampered the rescue operation.

The plane was on its regular commercial route from Kinshasa to Kisangani and Goma when it was hit by the storm as it approached the airport, Lambert Mende, a spokesman for the local administration said.

A plume of black smoke could be seen at the end of the runway, an AFP journalist reported. But flights, which had been suspended after the crash, resumed a short time later.

Hewa Bora said the plane was carrying 112 passengers and a crew made up of three pilots, two stewardesses and a mechanic.

Plane accidents frequently occur in DR Congo which are often blamed on ageing and poorly maintained aircraft, the flouting of safety rules and bad weather.
Each of its 50 or so airlines has been blacklisted by the European Union which has banned them from its airspace.

A UN aircraft crashed as it tried to land in a storm in Kinshasa in April, killing 32. One person survived in one of the worst disasters ever involving UN transport.

The Bombardier CRJ-100 plane, run by the UN mission in DR Congo, MONUSCO, was destroyed when it hit the ground as the pilot tried to land in torrential rain.

The plane was carrying 29 passengers—mainly UN officials and peacekeepers—and a four person crew on a regular UN flight from Kisangani to Kinshasa's N'Djili airport.

In August last year 20 people were killed after a plane flown by the head of a local airline crashed during landing in the west of the country. AFP