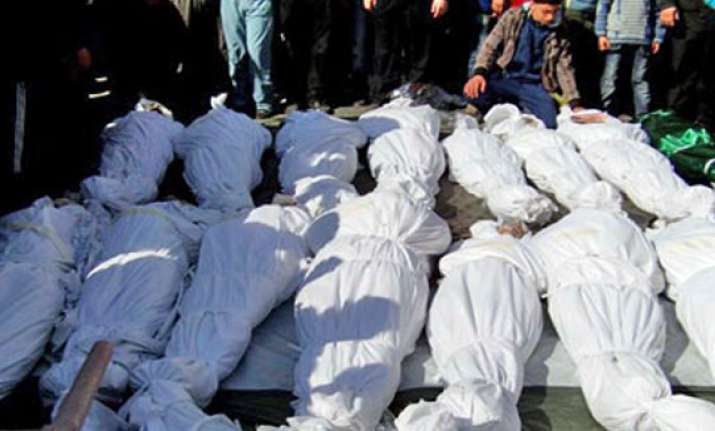 Beirut, Apr 10:
At least 105 Syrians were killed Monday in violence across Syria, a day before a UN planned peace plan is scheduled to start taking effect, a monitoring group said.
The toll included 23 members of the security forces loyal to President Bashar al-Assad and eight rebel fighters, while the rest were civilians, according to figures provided by the Syrian Observatory for Human Rights.  
At least 35 Syrian civilians, including women and children, were killed in shelling that targeted the village of Latamna, in the country's central Hama province, the Observatory said.
Among the dead, 15 were under the age of 18 and eight were women, said Rami Abdel Rahman, the head of the Observatory, describing the bombardment as a "new massacre by the Syrian regime."
The neighbouring village of Kfar Zeita was struck by army helicopters as regime forces clashed with rebels on the ground, the centre said.
In the province of Aleppo, 27 civilians were killed in shelling of the town of Tal Rifaat, where heavy clashes ensued between regime troops and rebels, the centre said.  
Also in Aleppo province, rebel fighters besieged a checkpoint at the village of Salamah, on the border with Turkey, killing six members of the security and customs services, said the Observatory.
At least eight rebels who were wounded in the fighting fled across the frontier, said the Britain-based monitoring group.