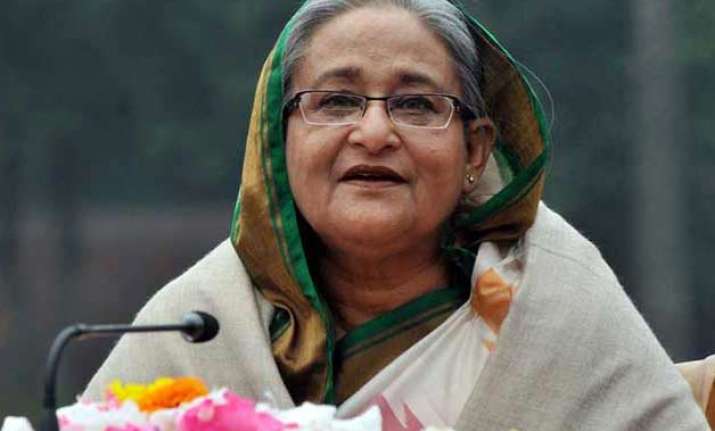 Dhaka: Bangladesh Prime Minister Sheikh Hasina today termed as a "huge diplomatic success" the ratification of a historic bill in the Indian Parliament that provides for the exchange of territories to settle the 41-year-old border issue between the two countries.  
"I think it's our huge diplomatic success and I extend my sincere thanks to all who were involved in the process," Hasina said speaking at a meeting with senior officials at the Home Ministry.
She recalled that after the emergence of Bangladesh in 1971, the country's founder and her father Bangabandhu Sheikh Mujibur Rahman first took the initiative to resolve the problem, created due to the partition in 1947.  
Meanwhile, a PMO spokesman told reporters that immediately after the Indian Lower House approved the bill, Prime Minister Narendra Modi called Hasina and conveyed his greetings to Bangladeshis.
"The Indian premier called her and conveyed his greetings for the people of Bangladesh," he said.  The Lower House, showing rare unanimity, passed the Constitution (119th Amendment) Bill to allow the operationalisation of the 1974 India-Bangladesh Land Boundary agreement between Hasina's father and the then Indian Prime Minister Indira Gandhi.
The 1974 treaty was not ratified by India as it involved transfer of territory which required a Constitutional amendment though Bangladesh immediately amended its Constitution to accommodate the agreement.  Hasina, however, said the process of LBA implementation was stalled after Bangabandhu's assassination in 1975 along with most of his family members as subsequent governments "took no initiative to this end".
The bill will allow operationalisation of the 1974 Indo-Bangla deal and its protocol in 2011, paving the way for exchange of territories in Assam, West Bengal, Tripura and Meghalaya.
India will get 510 acres while Bangladesh will get 10,000 acres. Though Bangladesh's Foreign Ministry is yet to issue any statement, state minister for foreign affairs Shahriar Alam told reporters that "Dhaka will now do what is needed for quick implementation of the treaty".