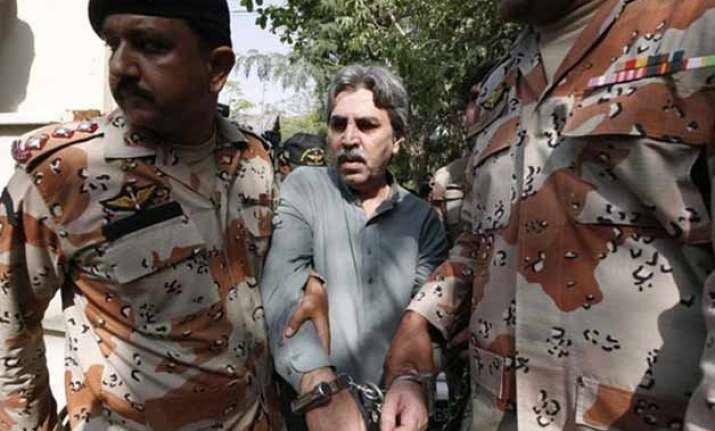 Karachi: An anti-terrorism court in Pakistan has remanded 28 activists of Mutthaida Qaumi Movement in custody of paramilitary rangers, a day after they were arrested during a raid by security personnel at the party's headquarters here.
The 28 members, including central leader Aamir Khan, were arrested by the Rangers from the central headquarters of the MQM, the main political party in Karachi, during a pre-dawn raid which led to Pakistan's biggest city Karachi shutting down.
The situation in the city remained tense today as Khan and the other arrested activists were brought blindfolded and handcuffed to the court amidst a large contingent of police and paramilitary Rangers.
Judge Khalida Yasmeen granted the Rangers 90 days custody of the men in order to investigate the weapons charges against them.
Khan waved a V-for-victory sign as he was jostled on his way out from the court.
During the raid at MQM headquarters, a party party worker was shot dead, sparking an angry response from the party, with workers shutting down large parts of Pakistan's commercial hub.
During the raid, security forces also seized a "huge quantity" of weapons and arrested activists, including one accused of murdering a journalist.
"The MQM maintains that Waqas Ali Shah was killed by Rangers personnel and we have enough evidence to prove this," said MQM leader Farooq Sattar.
The MQM, which is the single largest party in Karachi and urban parts of Sindh province, today filed a murder case over Waqas's killing.
Another MQM leader, Haider Abbas Rizvi lashed out at the Pakistan Tehreek-i-Insaf and its chairman Imran Khan for "celebrating" the raid.
He alleged that the "some political parties are seeing this as an opportunity to suppress MQM but their nefarious dreams will never come true".
The Rangers claimed recovery of a large cache of weapons and ammunition, but Rizvi said all of them were licensed.
The rangers and police have been carrying out a clean-up operation in Karachi since October 2013.
The MQM has in the recent past accused the Rangers of involvement in illegal detention and extrajudicial killings of its members.