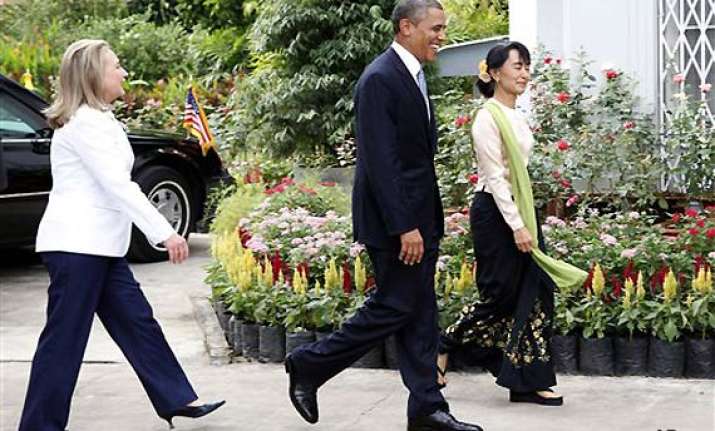 Yangon, Nov 19: In a historic breakthrough, President Barack Obama today stepped onto the soil of long-shunned Myanmar and into the flag-waving embrace of its once repressed people.
"You gave us hope," he declared, the first US president to visit what not long ago had been an international outcast.
Tens of thousands of people poured into the streets to welcome Obama to a place still learning its basic freedoms.
Speaking to a national audience from the University of Yangon, Obama offered a "hand of friendship" and a lasting US commitment, yet a warning as well. He said the new civilian government must nurture democracy or watch it, and US support, disappear.
The visit to Myanmar was the centrepiece of a four-day trip to Southeast Asia that began in Bangkok and will end tomorrow in Cambodia, where Obama will attend an East Asia Summit.
Obama seemed to revel in the history of what he was witnessing in Myanmar a nation shedding years of military rule, and a relationship between two nations changing fast.
"This remarkable journey has just begun," he said.
In a notable detour from US government policy, the president referred to the nation as Myanmar, the preferred name of the former military regime and the new government, rather than Burma, the old name and the one favoured by democracy advocates and the United States government.
On his first trip abroad since his re-election earlier this month, Obama got a warm welcome in Myanmar, hugging long-time opposition leader Aung San Suu Kyi and lauding her as a personal inspiration.
Crowds swelled at every intersection, yelling affectionately for Obama and his secretary of state, Hillary Rodham Clinton.
"You are the legend hero of our world," one banner read.
Obama acknowledged Myanmar's many democratic shortcomings but said: "The United States of America is with you."