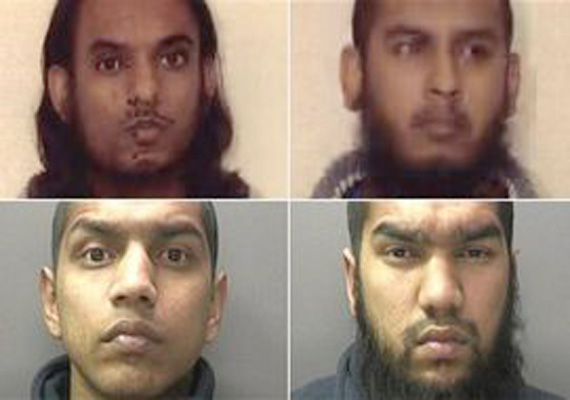 London, Feb 10 :  Nine British-Asians of Pakistani and Bangladeshi-origin were yesterday jailed for plotting to bomb the London Stock Exchange and to organise a terrorist training camp in Pakistan.

The men, who were convicted last week, were described by the judge at the Woolwich Crown Court as "Islamic fundamentalists".

They hail from towns in England and Wales such as Stoke-on-Trent, Cardiff and London.  Usman Khan, 20, one of the nine jailed, was involved in organising a training camp on his family land in Pakistan-occupied Kashmir, and to encourage a "significant" number of British Muslims at attend it.

Justice Wilkie said this was a "serious, long-term venture in terrorism" that could also have resulted in atrocities in the UK. All nine men were arrested in December 2010.

He said: "It was envisaged by them all that ultimately they and the other recruits may return to the UK as trained and experienced terrorists available to perform terrorist attacks in this country, on one possibility contemplated in the context of the return of British troops from Afghanistan."

The nine included one Bangladesh origin man who had changed his name before arrest to "Gurukanth Desai", possibly after the name of the lead character in Bollywood film 'Guru'. 

Shahjahan 27, was jailed for a minimum term of eight years and 10 months. Usman Khan and Nazam Hussain, 26, were ordered to serve at least eight years.