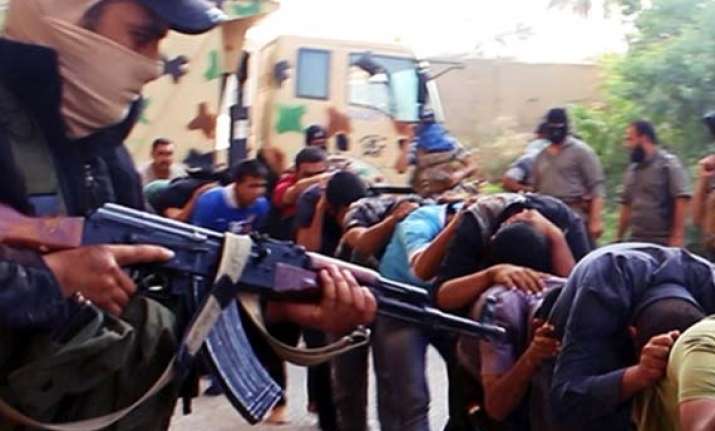 Damascus: As many as 85 Syrian soldiers have been killed over the past two days in attacks launched by the so-called Islamic State (IS) on a military base in Syria's northern al-Raqqa province, activists said on Saturday.
The 85 soldiers and officers have been confirmed dead during the twin bombings by the IS at the gates of the 23rd Division base in al-Raqqa and in the clashes that ensued, said UK-based Syrian Observatory for Human Rights.
The observatory said that the IS, which is an Al Qaeda splinter group, had also executed soldiers who were retreating towards northern al-Raqqa after fleeing the base.
The IS has also published images of beheaded soldiers it had slain in al-Raqqa, while the observatory added that the fate of another 200 soldiers is still unknown.
The IS at dawn on Thursday launched a large-scale offensive against the 23rd Division of the Syrian army in al-Raqqa.
Local media said the clashes were still continuing at the base while opposition activists claimed that the IS has captured it.
The IS aims to take control of the base just days after it seized one of the key natural gas fields in the central province of Homs, called the al-Shaer field, where more than 270 government troops and workers had been slain by the IS.
About 600 fighters from the IS reportedly took part in the attack against the division, using assorted weaponry in their offensive. Media reports said Syrian war jets also took part in fending off the rebels' attack against the base.
The IS, previously known as the Islamic State in Iraq and Greater Syria (ISIS), has recently proclaimed the establishment of an 'Islamic caliphate' straddling Syria and Iraq, and changed its name to 'Islamic State'.
The group, led by Abu Bakr al-Baghdadi, who commands tens of thousands of fighters, said its goal was to establish an Islamic state in Iraq and Syria to fight the Shia government of Iraqi Prime Minister Nouri al-Maliki and that of Syrian President Bashar al-Assad, whose top ranks are from the Alawite minority, an offshoot of Shia Islam.
Syria is seeing a deadly conflict since March 2011. Over 160,000 people have reportedly been killed and millions displaced due to the violence.