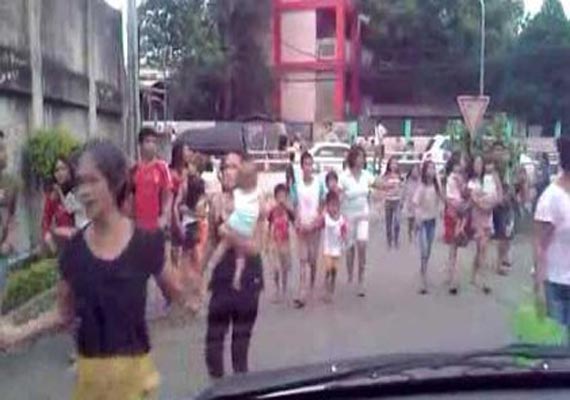 Manila, Aug 31: A 7.6-magnitude quake struck off the eastern coast of the Philippines late Friday, killing at least one person in a house collapse and triggering tsunami warnings in the region that sent coastal residents fleeing to high ground.
Power was knocked out in several cities.
A tsunami alert originally was issued for several countries including Japan and for Pacific islands as far away as the Northern Marianas, but most of them were soon lifted, leaving warnings only for the Philippines, Indonesia and Palau, the Pacific Tsunami Warning Center said.
"My neighbors and I have evacuated. We are now on our way to the mountains," fisherman Marlon Lagramado told The Associated Press in a telephone interview from the coastal town of Guiwan in the Philippine province of Eastern Samar, which was closest to the epicenter.
The quake, with preliminary magnitude 7.6, hit at a depth of 34.9 kilometers (21.7 miles) and was centered 106 kilometers (66 miles) east of Samar Island, the U.S. Geological Survey said.
The head of the Philippine seismology agency, Renato Solidum, said that residents living along the coastlines of eastern Samar and several other nearby islands were advised to evacuate to high ground until the threat of the tsunami has passed.
"Don't sleep, especially those in the eastern seaboard ... because there might be aftershocks," Benito Ramos, a retired general who heads the disaster-response agency, said in an advisory broadcast nationwide.
Mayor Vicente Emano reported one house collapsed in southern Cagayan de Oro city, on the main southern island of Mindanao, killing a 54-year-old woman and injuring her 5-year-old grandson, who was being treated in a hospital.
There was no electricity in several other towns and cities across the central and southern Philippines, though it was restored in some areas later Friday, according to rescuers and local radio reports.