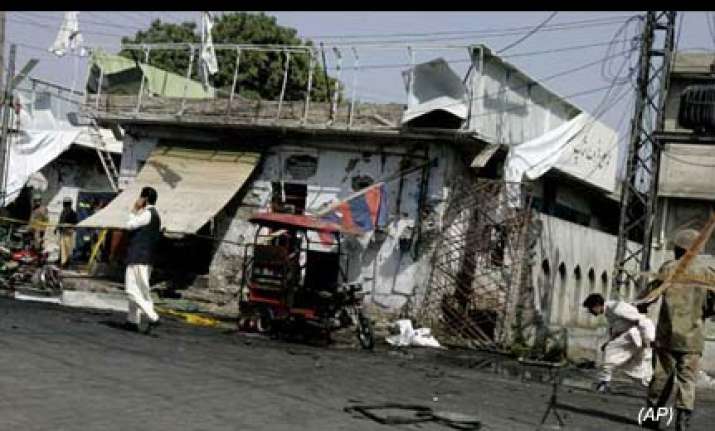 At least 39 people, including ten soldiers, were killed and 95 others injured on Friday in twin suicide attacks targeting an army patrol within the heavily- guarded cantonment in Lahore, the latest in a wave of terror strikes across Pakistan.
The bombers, who were on foot, targeted vehicles of the Garrison Security Force that were patrolling the cantonment in R A Bazar at 12.48 pm local time.
The blasts occurred 15 seconds apart near a mosque where a large number of people had gathered for Friday prayers. The mosque is frequented by serving and retired army personnel, local residents said.
 "Two suicide attackers struck the army vehicles which were on patrol. The blasts occurred 15 seconds apart," said Special Superintendent of Police (operations) Chaudhry Shafiq Ahmed.   At least 39 people were killed and 95 others injured in the attacks, Punjab police chief Tariq Saleem Dogar told reporters.
City police chief Pervez Rathore said at least 10 soldiers were among the dead.  "We have found the heads of both suicide bombers. They were on foot," said SSP Ahmed.
Other officials said the bombers were aged between 17 and 20 years. One head was intact while the features of the other were unrecognisable, they said.
Some of the injured were in a critical condition. The wounded were taken to nearby military and civilian hospitals. An emergency was declared in hospitals across Lahore.
No group claimed responsibility for the attacks.
There were reports that the blasts were preceded by firing but SSP Ahmed said no one had opened fire in the area.
Army commandos and military police cordoned off the area and put up curtains around the site of the blasts. Army helicopters conducted surveillance of the area.
Footage on television showed ambulances removing bodies and the injured from the area.
Officials of the bomb disposal squad were quoted by TV channels as saying that each bomber's suicide jacket was packed with 10 kg of explosives and nuts, bolts and ball bearings. The squad also carried out the safe detonation of a device, triggering speculation about another explosion.
 All roads and entry points in the cantonment are guarded by the army and it could not immediately be ascertained how the bombers managed to evade the security dragnet.
Lahore has witnessed several terrorist assaults since last year, with most of the attacks targeting government installations and offices of sensitive organisations like the Inter-Services Intelligence and Federal Investigation Agency. Fourteen people were killed in a suicide car bomb attack on a special investigation unit's office in Lahore on March 8.
Other parts of the country have also been rocked by terror attacks since the military launched a massive operation against the Taliban stronghold of South Waziristan in October last year. Hundreds of people have died in these attacks. PTI