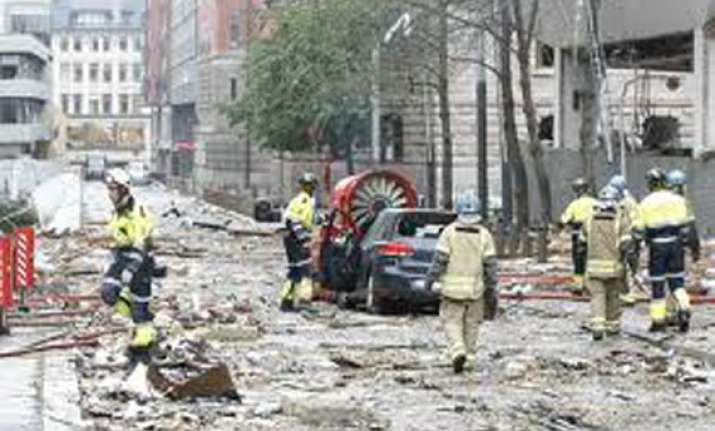 Islamabad, Nov 22 : At least 37 people have been killed and over 90 others injured in Pakistan since Wednesday, Xinhua reported.
A total of 28 people were killed and 77 others injured in Pakistani cities of Peshawar and Karachi since Wednesday night. Claiming responsibility for both the attacks, Pakistan Taliban Thursday warned of more such attacks in the near future.
In Rawalpindi, in a sectarian attack Wednesday night, 23 people were killed and 62 others including eight children were injured when a suicide bomber hit a procession of Shiite Muslims in the city, said Deeba Shehnaz, spokeswoman of state rescue department.
The suicide bomber blew up his explosive-laden jacket in a gathering of over 1,500 Shiite Muslims when police tried to stop him for checking in Misrial area of the city.
In Karachi, four hours prior to the Rawalpindi attack, at least three people were killed and 13 others injured as twin blasts hit a Shiite shrine in the port city.
Police in its investigation report Thursday said, three people were killed and five others injured in the first blast around 6 p.m. Wednesday after a bomb went off at the main gate of a Shiite Shrine in the city's Orangi town.
The bomb was detonated by a remote control device and explosives were fixed at a motorbike, the report said, adding when police and rescue teams gathered at the site, another blast took place, injuring eight people including policemen and journalists.
On Thursday, unidentified gunmen attacked a police checkpost in Peshawar.
Police said that at least one policeman was killed, two others were injured and several went missing when a group of motorbike riders opened fire at a police checkpost in Badaber area of the city. Soon after the attack, the body of one of the missing policemen was found in a nearby area, pushing the toll to two.
Pakistan Taliban claimed responsibility for both Rawalpindi and Karachi blasts. Ahsan Ullah Ahsan, the spokesperson of Pakistan Taliban, said more attacks would come on Shiite Muslims in the future.
President Asif Ali Zardari, Prime Minister Raja Pervez Ashraf and leaders of all political parties condemned the blast.
In an earlier incident, four policemen were killed in Khyber Pakhtunkhwa province after an unidentified number of gunmen ambushed a police vehicle in Jani Khel area. Pakistan Taliban claimed responsibility for the attack.
In another attack in Balochistan province's Quetta city, five people were killed and 15 others injured when a remote-controlled bomb hit a security convoy, police said. No group claimed responsibility for the attack.