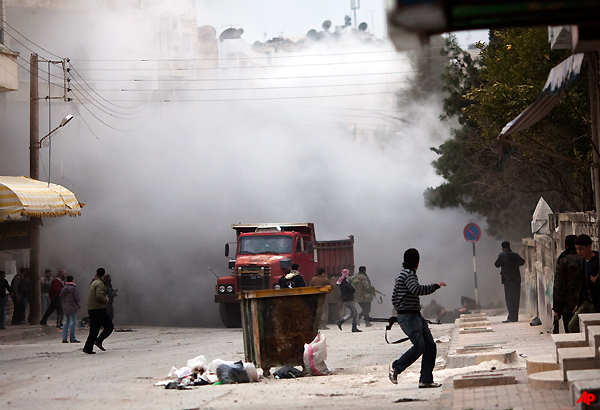 Beirut, Mar 13: The Syrian army launched a new assault on Monday in the restive northern province of Idlib and the city itself, where residents are suffering "indescribable" humanitarian conditions, activists said.

The army offensive, which follows a ferocious weekend assault by regime forces against rebel bastions in Idlib, came as 22 people were killed in violence across Syria, according to monitors.

"The army bombarded the Dbeit district in Idlib city and pounded the Ath-Thawra neighbourhood, where several buildings collapsed," an anti-regime activist in the city told AFP via Skype, giving his name only as Yasser.

He reported tanks and armoured cars driving around inside the city.

"The humanitarian situation is indescribable, the residents are totally without water and electricity, and communications have been cut off," he added.

While the army controls some parts of the city that were wrested from the rebels in an assault on Saturday, others remain in the hands of the insurgents.

In the Dbeit neighbourhood, 20 bodies were discovered on Sunday night, according to Rami Abdel Rahman, head of the Syrian Observatory for Human Rights.

On Monday, at least four civilians were killed in Idlib province, the Britain-based Observatory said, including a child travelling in car targeted by gunfire in Al-Mastum district and another civilian hit by a rocket.

Two others were shot dead near the town of Maaret al-Numan and in the Jabal al-Zawiya district, the monitoring group added.

"The government forces have also bombarded the Maaret Masrin area, near Idlib city," Abdel Rahman said.

Two soldiers also lost their lives in the province. In the flashpoint central province of Homs, meanwhile, three civilians were reportedly killed by gunfire in separate incidents.