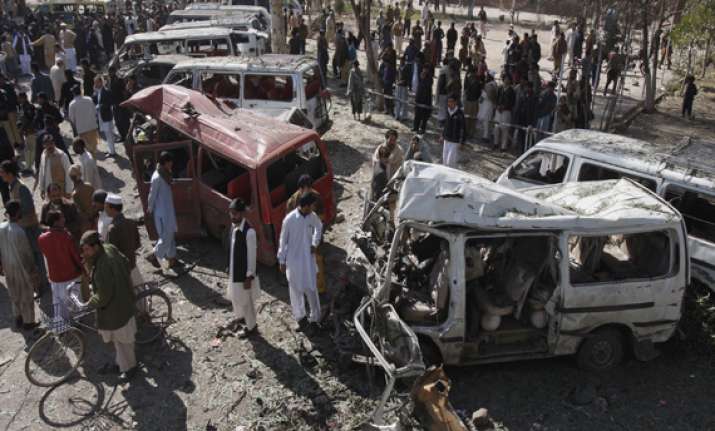 Islamabad, Feb 23: A powerful car bomb ripped through a bus terminal in northwest Pakistan's Peshawar city today, killing at least 12 people, including two children, and injuring 36 others.

The bomb containing about 40 kg of TNT explosives was hidden in a car parked near the gate of the bus terminal, police officials said.

The explosion, which was heard from several kilometres away, created a large crater at the site. 

"It was a car bomb attack. The total number of dead is 12," Siraj Ahmed Khan, the head of the district administration, told reporters at the scene of the attack.

 Other officials said two children were among the dead.  Local residents took the injured to Lady Reading Hospital in private vehicles.

Officials at the hospital said they had received 36 injured people. Four of them were in serious condition.  A child and several women were among the wounded, they said.

Witnesses said they had seen body parts lying strewn across the bus terminal.

Over 15 vehicles were badly damaged by the blast, which blew out the windows of nearby buildings.  Security personnel cordoned off the area and launched a search operation.

A bomb disposal squad scoured the area for clues and checked all vehicles at the bus terminal.  Footage on television showed several buses at the terminal were reduced to heaps of mangled metal.  No group claimed responsibility for the attack.  Such bombings are usually blamed on the Pakistani Taliban.

The bus terminal is one of the busiest in Peshawar and was crowded with people at the time of the explosion.  Many people were waiting to board mini buses going to towns across Khyber-Pakhtunkhwa province, of which Peshawar is the capital.