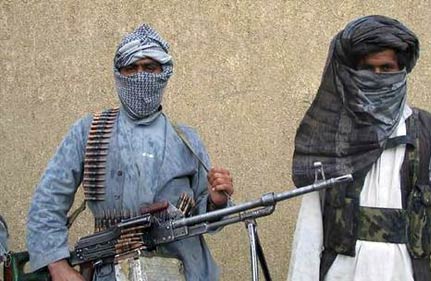 Peshawar, Nov 17: Afghan government has held the "final round" of talks with Taliban representatives, improving chances of a viable roadmap for a broad-based dispensation in the war-torn country in future under which some provinces could be handed over to the militant outfit.
Afghan-Taliban commanders Aminullah and Maulvi Bismillah represented supreme militant commander Mullah Omer in three round of talks with the government of Afghan President Hamid Karzai, who "partially participated" in the parleys, sources familiar with the process told PTI today.
An announcement about a draft agreement between the two sides is expected to be made in Saudi Arabia. This agreement will contain a roadmap for the future broad-based set-up in Afghanistan, the sources claimed.
The third and final round of talks, which was held in Kabul recently, was "very successful" as the parties to the conflict agreed to a "feasible roadmap" for the formation of a broad-based government in Afghanistan, the sources further claimed.
"Final conditions" have been laid down for this process and the Taliban agreed not to have any ministers in the central Cabinet.
The final draft of the talks has been prepared and the Afghan government sent a copy to the United States while the Taliban forwarded the same to Saudi Arabia, the sources said.
The Afghan government freed five important Taliban commanders, including Maulvi Rasool, in return for the release of Abdul Khaliq Farahi, the Afghan ambassador-designate to Pakistan who was kidnapped over two years ago in Peshawar.
The Taliban representatives at the talks also made it clear to the Afghan government that they were not involved in a suicide attack in Jalalabad. They argued that if they had resorted to such attacks, the release of Farahi would not have been possible.
The sources said the Afghan government had reportedly agreed to give the control of some provinces to the Taliban. However, the exact number of such provinces could not be immediately ascertained.
The withdrawal of US and NATO forces from provinces to be handed over to the Taliban in the wake of the implementation of the agreement between the two sides would begin from January 2011, the sources said.
They further said that before the commencement of the third round of talks in Kabul, several warring Afghan groups met in Male, capital of Maldives. PTI