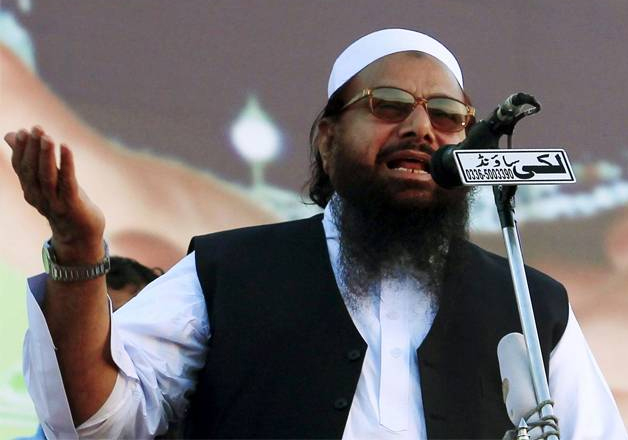 Rattled by the Indian Army's surgical strikes at terror launch pads located in Pakistan occupied Kashmir, Jamaat-ud-Dawaah (JUD) chief Hafiz Saeed today threatened India and the country's media saying that he will 'teach India what real surgical strikes are'.
"Inshaallah… Indian channels, you will see how Pakistani jawans conduct surgical strikes now. We (Pakistani forces) will teach you what real surgical strikes are," the 26/11 mastermind said, a day after the Indian Army declared that it had crossed the Line of Control and successfully conducted surgical strikes in PoK and killed more than 35 terrorists. 
"India has confessed of crossing the LOC, you will get the deserved response soon," he added.
Saeed, who was reportedly addressing his supporters in the PoK, also termed India's operation a 'drama' and said that Indian media houses are presenting false pictures to the world from their studios.
"The Indian media houses are playing news stories about surgical strike and inviting praise… Sonia also spoke about the operation. No strike took place in Bhimber, Hotspring, Kel and Lipa sectors. It is just a drama created by Ajit Doval," he said.
"What is the difference between drama and real surgical strike, we will tell India and the entire world as well. US will not be able to help. … no one will come to India's rescue," he added.
Reacting to the reports that India may suspend Indus Water Treaty, he said, "Those who threat to block our waters, should listen. Kashmir will be freed along with its dams. Give free hand to Pakistan Armed Forces to liberate Kashmir."
"Freedom of Kashmir will be the beginning of India's destruction," he added.
"I would request politicians, religious groups to stand united in the crucial matter of national defence," he further said.
Hafiz Saeed, who is a major irritant in the already strained relationship between India and Pakistan, is actively involved in spewing venom against India.
He runs the Lahore-based Jamaat-ud-Dawa (JuD), which he claims to be running for humanitarian charity. The JuD has been blacklisted by the US, which has described it as a foreign terrorist organisation.
Meanwhile, Pakistani media today supported its government's stand that India's surgical strikes across the LoC were a drama to placate the local sentiments after the Uri terror attack. 
Leading newspaper Dawn reported that Pakistan-India crisis over Kashmir dangerously escalated after Indian forces fired across the LoC, killing at least two Pakistan Army soldiers while calling it 'surgical strikes' against terror launch pads. 
Karachi-based 'The Express Tribune' said that 'Modi administration staged a drama on Thursday to placate a media-induced public frenzy following the Uri attack'.
The News International reported that claims by India of carrying out surgical strikes inside Pakistan have been dismissed as just firing across the LoC. 
Right-leaning 'The Nation' reported that India failed to sell the idea of surgical strikes. 
India carried out surgical strikes on seven terror launch pads across the LoC on the intervening night of September 28 and 29, with the Army saying it had inflicted significant casualties on terrorists preparing to infiltrate from PoK, days after Modi warned Uri attack would not go unpunished.