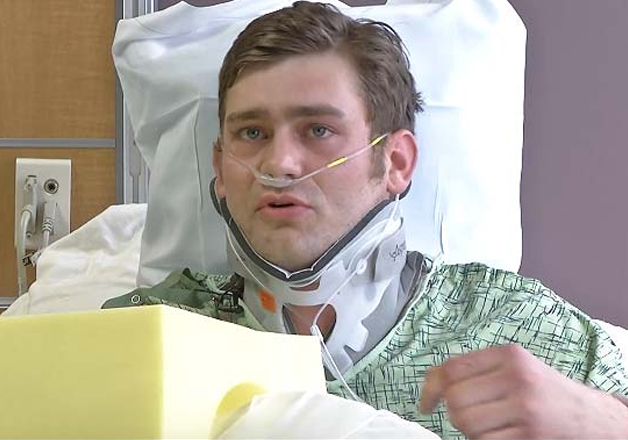 Ian Grillot, a 24-year-old American has invited praise for the bravery he displayed while trying to stop a shooter who killed an Indian in Kansas City in what authorities have defined as a possible racial attack.
In an interview from his hospital room, Grillot, who had walked into his favourite bar to unwind and catch the local basketball game, said that it was 'actually the right thing to do'.
Grillot hid behind a table when the gunman, identified as Adam Purinton (51), started shooting following an altercation at Austins Bar. 
An Indian engineer was killed and another injured by Adam who mistook them for 'Middle Easterners' and yelled 'get out of my country' before shooting.
Srinivas Kuchibhotla (32) was killed and Alok Madasani was injured when Adam, a white who earlier served in the US Navy, shot them at the bar on Wednesday night.
Grillot said that he counted the gunshots and when he thought the shooter was out of bullets, he jumped up to stop him but Purinton still had one round left, which he used to shoot him and the bullet went through Grillot's hand into his chest. 
"I guess I miscounted," Grillot said in a video released by the University of Kansas Health System. 
"I got up and proceeded to chase him down, try to subdue him...I got behind him and he turned around and fired a round at me," he said. 
"I was doing what I should have done for another human being. It's not about where he (victim) was from or his ethnicity. We're all humans, so I just did what was right to do and I didn't want the gentleman to potentially go after somebody else," Grillot said. 
Grillot said that he learned the wife of Alok Madasani , who was critically injured, is five months pregnant and that he considers the engineer his new best friend, the Kansas City Star report said. 
"One of the gentleman that survived he came in here today and it was the greatest thing I can't even describe it coming to find his five months pregnant wife. Something was guiding me to do what I did, somebody was watching over me I'm just very grateful that one of the gentlemen is fine and alive. It's terrible what happened to his friend. But I think he was watching over us last night," Grillot said. 
He said he hopes the two can spend some time together when they get out of the hospital. "I don't think it's going to be at the bar, though," he said. 
"It just put the biggest smile on my face," Grillot said when he saw Madasani earlier in the day. 
Indian engineer Srinivas, who was working at GPS-maker Garmin headquarters in Olathe, was killed while another Indian man and his colleague Madasani was critically injured after Purinton, a Navy veteran, started shooting indiscriminately following an altercation on Wednesday night at the bar.