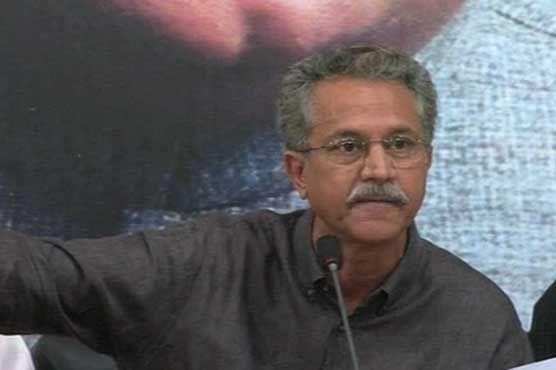 The imprisoned Mutthaida-e-Qaumi Movement (MQM) leader Waseem Akhtar today took oath as the new mayor of Karachi, the financial hub of Pakistan.
Waseem Akhtar took the oath after the Sindh High Court dismissed at least two petitions challenging his right to take oath as Mayor of Pakistan's biggest city.

 

The oath-taking ceremony was delayed for two hours as the High Court was busy disposing off these petitions.
60-year-old Akhtar was brought from the Central jail in heavy security and took oath along with his running mate Arshad Vohra who took oath as deputy mayor.
Karachi has not had a mayor since 2010 when Mustafa Kamal completed his five-year term.
Before the oath-taking ceremony, Pakistan Tehreek-e- Insaaf's Faisal Wada submitted a petition in the SHC requesting the court to stop the oath-taking ceremony but the petition was dismissed after the court said that no charges have been proven against Akhtar as yet.
Akhtar is facing several charges and serving judicial custody in connection with the violence on May 12, 2007 which is also known as 'Black Saturday' riots. A series of violent clashes took place on May 12, 2007 between rival political activists in Karachi with the MQM members who were opposing the arrival of suspended Chief Justice Ifthkar Ahmed Chaudhary at the Karachi airport while other parties, including the Pakistan Peoples Party and Awami National Party (ANP), supported the Chaudhary's arrival.
Gunfights and clashes erupted across the provincial capital in which nearly 50 people were killed and scores wounded and millions of property, petrol pumps, shops and vehicles destroyed in arson and vandalism.
Akhtar made it clear after taking oath that he wanted to serve Karachi and Pakistan and was mayor of Karachi not the MQM.
Raising slogans of "Jeeya Bhutto", "Jiya Mutthaida", and "Jiya Imran Khan", Akhtar said he wanted to take along all opposition parties and work with them to improve the conditions in cosmopolitan city of Karachi.
"I am confident that I will get justice from the courts soon and I will be meeting you and the business community to improve conditions in Karachi," he said addressing the foreign diplomats attending the ceremony.
The oath-taking ceremony was attended by foreign diplomats, businessmen and political leaders.
(With PTI inputs)