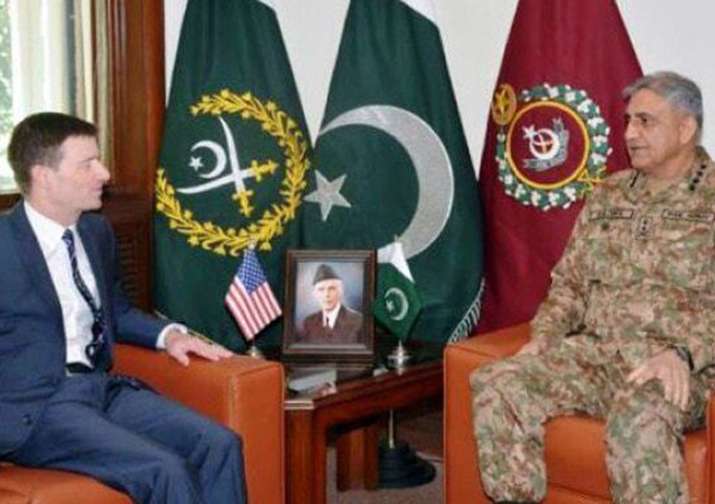 In an unusual move, the US Ambassador to Pakistan David Hale met today with Army chief General Qamar Javed Bajwa and underscored the importance President Donald Trump attaches to conquering extremism and vanquishing the forces of terrorism. 
During the meeting, Hale thanked General Bajwa for his public commitment on May 18 that Pakistan is taking measures to ensure that militants do not use Pakistan's soil to conduct attacks against any country, the US Embassy said in a statement.
Hale noted President Trump's call during his speech at the Arab-Islamic-American Summit in Saudi Arabia for a vision of peace, security, and prosperity, and unity in conquering extremism and terrorism, it said. 
"....We must be united in pursuing the one goal that transcends every other consideration. That goal is to meet history's great test-to conquer extremism and vanquish the forces of terrorism," Trump had said yesterday at the Summit. 
During their meeting General Bajwa offered renewed assurances that Pakistan would not permit its territory to be used to plan or conduct attacks against Afghanistan, the statement said. 
The Ambassador and General Bajwa reiterated their nations' commitment to a secure, stable, and prosperous Afghanistan, it said. 
The statement said that Hale also affirmed Pakistan's role and sacrifices in the fight against terrorism. 
Afghanistan accuses Pakistan of providing safe haven to the Afghan Taliban, the Haqqani network and other terror groups. 
Islamabad on the other hand blames Kabul for hosting Jamaatul Ahrar and other militants responsible for carrying out a wave of attacks in February that killed 130 people across Pakistan.