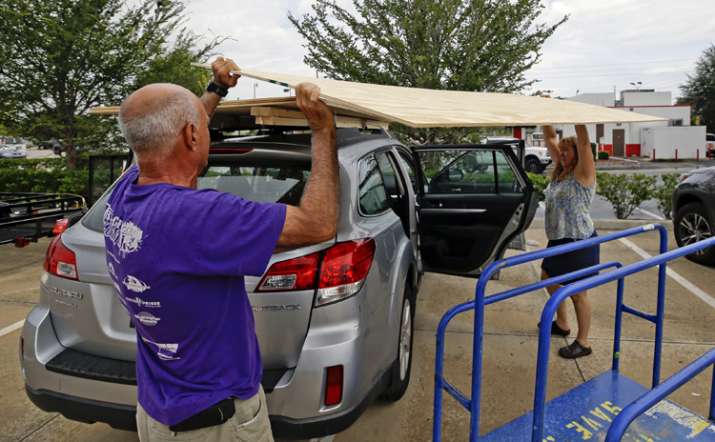 The US on Wednesday braced for a new record-breaking hurricane that could have potentially catastrophic impact on its coast in Florida, a week after hurricane Harvey devastated major parts of Texas impacting millions of people.
US National Hurricane Center said the category 5 hurricane Irma is expected to landfall in Florida this weekend.
It swept the Caribbean Islands on Wednesday and is expected to pass through Puerto Rico later in the day.
"A new and it seems to be record-breaking hurricane heading right toward Florida, Puerto Rico, and other places.
We'll see what happens," US President Donald Trump told reporters in his Oval Office during a meeting with Congressional leadership.
According to an estimate by Barclay's, the potential damage due to Hurricane Irma could be to the tune of USD 130 billion.
The hurricane is expected to impact millions of Floridians, including thousands of Indian-Americans who live in the State.
Florida has a vibrant Indian-American population.
"Hurricane looks like largest ever recorded in the Atlantic!" Trump said in a tweet.
"Watching Hurricane closely. My team, which has done, and is doing, such a good job in Texas, is already in Florida. No rest for the weary!? said the US President in another tweet.
Trump has approved emergency declaration in the State of Florida, the territory of UD Virgin Island and Puerto Rico.
He ordered Federal assistance to supplement the response efforts due to the emergency conditions resulting from Hurricane Irma.
Florida State Governor Rick Scott said it is developing as a devastating major storm.
"The Florida Keys should be prepared to start feeling the effects of this storm as early as Saturday. Storm surge and extreme winds are the biggest concern right now. This storm is bigger, faster and stronger than Hurricane Andrew," he told reporters.
A mandatory evacuation order has been issued for people living in Florida Keys.
"We are preparing for Irma to direct impact our state.
And while it is still too early to tell exactly where the storm will hit, it is incredibly important that all Floridians keep a close eye on this incredibly dangerous storm. Do not sit and wait for this storm to come. It is extremely dangerous and deadly and will cause devastation. Get prepared right now," he said.
Meanwhile, the Department of State issued a travel warning for its citizens traveling to Cuba, due to Hurricane Irma, a Category 5 storm that is projected to impact Cuba.
"This storm may bring significant rainfall and wind that may result in life-threatening flooding, flash flooding, mudslides, and storm surge.