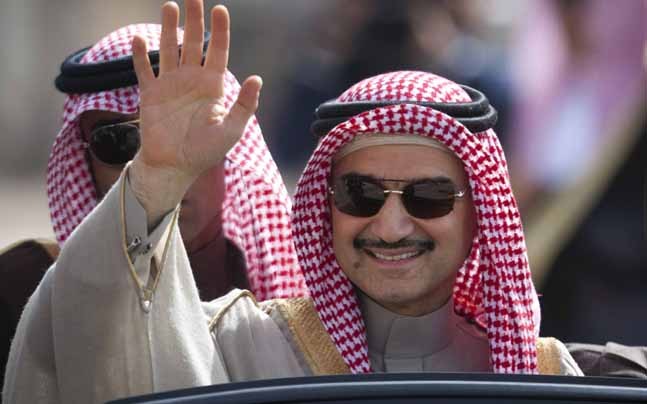 Billionaire Saudi Prince Alwaleed bin Talal was released on Saturday from the luxury hotel where he has been held since November, according to three of his associates, marking the end of the first phase of a wide-reaching anti-corruption probe that has been shrouded in secrecy and intrigue.
The prince, 62, had been held at the Ritz-Carlton hotel in the Saudi capital, Riyadh, since Nov. 4, when he was detained in the anti-corruption probe being spearheaded by his much younger cousin, Crown Prince Mohammed bin Salman. The 32-year-old crown prince, who is King Salman's son and heir to the throne, launched the corruption probe, which saw some 350 people questioned and dozens arrested.
Others arrested in the probe include 10 princes, among them two sons of the late King Abdullah, dozens of prominent businessmen, government ministers and military officers. The government, however, has not named those detained nor discussed the specific allegations against them.
Earlier this week, Saudi Attorney General Saud al-Mojeb was quoted in local media as saying some 90 detainees in total have been released after agreeing to settlements involving cash, real estate and other assets. He said at the time that 95 were still being held, and that if a financial agreement could not be reached the remaining detainees will be prosecuted, investigated further and could face six months or more in jail.
It appears, however, that several more were released over the weekend, in addition to Prince Alwaleed, who was the most well-known and prominent figure caught up in the sweep. The prince is chairman of publicly traded Kingdom Holding Company, which has investments in several Western companies such as Twitter, Lyft, Citibank and major hotels like New York's Plaza Hotel, London's Savoy Hotel, and the Four Seasons George V Hotel in Paris.
The prince also has several million shares in Apple and is majority owner of the popular Rotana Group of Arabic channels.
The prince, pictured in the past on his 85-meter (278-foot) super-yacht in the Mediterranean, is among the most outspoken Saudi royals and a longtime advocate of women's rights.
Prince Alwaleed's associates, who include a relative, told The Associated Press that his terms of release were not immediately known. They spoke on condition of anonymity because of the sensitivity of the matter.
His release on Saturday comes just hours after the prince gave his only interview since his detention, telling Reuters he expected to keep full control of his investment firm without giving up assets to the government.
His suite at the Ritz-Carlton included a private office, dining room and kitchen. His refrigerator was stocked with vegetarian meals as requested and he had tennis shoes for exercise, as well as a mug with an image of his face on it, according to Reuters.
The hotel where he and other prominent figures were held has been closed to the public since early November. The hotel is taking reservations again starting Feb. 14.