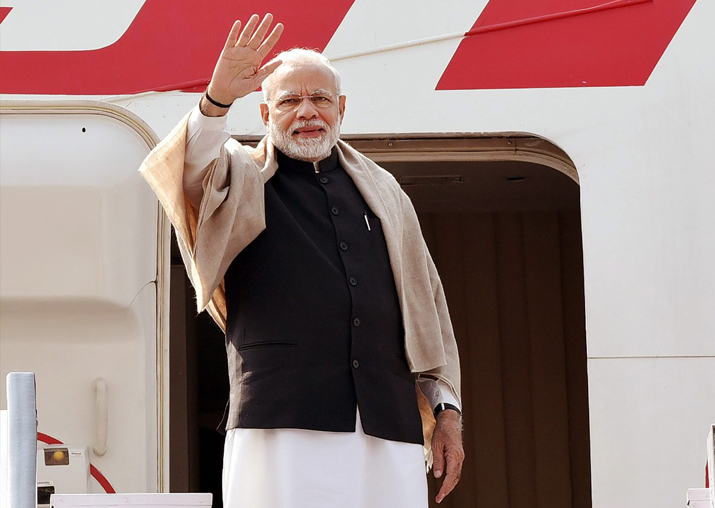 Prime Minister Narendra Modi will have a busy schedule in the UAE, with meetings lined up with the country's leaders, the Indian community and businessmen.
Modi will reach here tomorrow from Palestine and then will have bilateral engagements in Abu Dhabi followed by a banquet, India's ambassador to the UAE Navdeep Singh Suri said. 
This would be Modi's second visit to the country. He had visited the UAE in 2015. 
On Sunday, the prime minister will go to Dubai where he will watch the live streaming of a Hindu temple inauguration ceremony and then address the Indian community gathered at the Opera House. 
The temple, expected to be completed by 2020, will be built at Abu Mureikhah, off the Dubai-Abu Dhabi highway. The temple will incorporate all aspects of a traditional Hindu temple. 
The stones will be carved by temple artisans in India and assembled in the UAE. 
The trust that will manage the temple -- Bochasanwasi Shri Akshar Purushottam Swaminarayan Sanstha (BAPS), a socio-spiritual Hindu organisation set up in 1907 that runs more than 1,100 temples and cultural compounds around the world, thanked Crown Prince of Abu Dhabi Sheikh Mohammed bin Zayed and PM Modi for the temple. 
"In the 21st century, when the world is fragmenting for frivolous reasons, this timely and noble gesture creates hope for unity in diversity. It reinforces the guiding vision of tolerance and harmony of the founding fathers of the UAE. We are sincerely grateful and indebted to His Highness Shaikh Mohammad Bin Zayed and Indian Prime Minister Narendra Modi, as well as the people of both nations for their commitment towards peace and harmony," it said in a statement said.
Such a gesture is the way forward for creating global harmony and a world full of peace and respect, the statement added.
The Trust also manages Swaminarayan Akshardham in New Delhi and others in the US, Canada, the UK and Australia.
The UAE is home to over three million people of Indian origin. 
He will then proceed to the venue of the World Government Summit where to deliver keynote address. 
He has meetings lined up with Gulf business leaders. He will also meeting the Ruler of Dubai and Prime Minister Sheikh Mohammed bin Rashid and also visit a paintings exhibition by Ramesh Shukla, Suri said. 
Modi had said energy security and infrastructural investments in India would be the key topics that he will discuss with the UAE's leadership. 
The investment from UAE to India exceeds USD 11 billion.