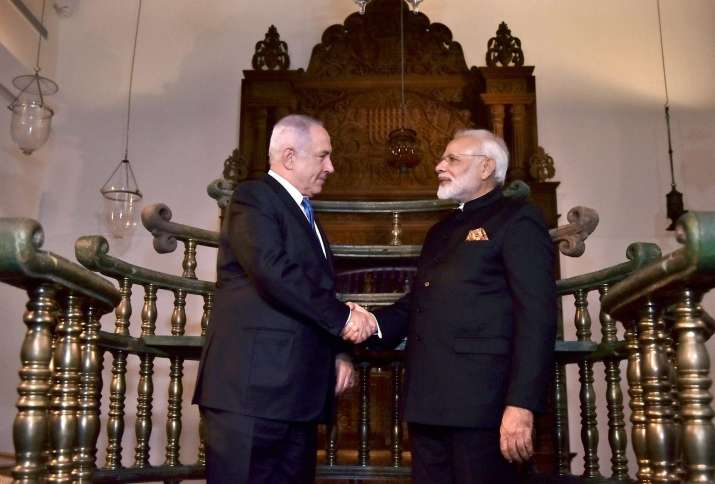 Prime Minister Narendra Modi on Wednesday announced to start a new flight service connecting Delhi, Mumbai and Tel Aviv. Addressing the Indian diaspora in Tel Aviv's Convention Center, PM Modi said, "Now a Delhi-Mumbai-Tel Aviv air service will be initiated. And so I invite youth of Israel to visit India". 
Air India had earlier announced to start direct flight between Delhi and Tel Aviv. The flight service was to start in May but the launch was delayed as several countries, which fall in the selected route, denied the overflight permission.
Air India used to operate directs flights to Israel from Delhi until mid-1990s and Mumbai until early 2000. The flights were withdrawn for commercial reasons.
Amid thunderous applause, PM Modi also announced that people of Indian origin in Israel will get the Overseas Citizen of India (OCI) cards even if they have undergone the compulsory army service there.
He said he had heard about problems being faced by the people of Indian origin in getting the OCI cards.
 
The Indian government has simplified the rules and even those who have undergone the compulsory military service in Israel will get the OCI cards, the prime minister said to the cheering by the crowd. 
Modi said the Jewish nation had links with India dating back to centuries but the fact that no Indian prime minister had travelled here in 70 years "raises questions", an apparent swipe at the previous governments of India. 
"For the first time in 70 years, an Indian prime minister has landed here to seek your blessings," he said amid chants of "Modi, Modi". 
Describing Netanyahu as "my friend", Modi said the kind of welcome extended to him since his arrival here yesterday cannot be forgotten by anyone. 
Hailing Israel, particularly its innovations and scientific advancements, he said the country has demonstrated that the number and size does not matter but it is the spirit that matters. 
Modi said there were about 600 Indian students in Israel who can contribute to the future of the relationship. He remembered former Israeli prime minister Shimon Peres, saying he had worked tirelessly for the humanity. 
Referring to Moshe Holtzberg, an 11-year-old Israeli who was saved by an Indian nanny during the Mumbai terror attack of 2008, Modi said it had shown how life succeeds over terrorism. He had met Moshe earlier in the day.
 
Modi also recalled the contribution of the Indian army in liberation of Jerusalem and Haifa during the World War-I. He will be travelling to Haifa tomorrow to pay his tributes to them. 
In his 60-minute speech, Modi talked about various programmes initiated by his government and said these were aimed at the betterment of the common people. 
Netanyahu, who spoke before Modi said the partnership between India and Israel was "made in heaven and was happening here now." 
He said he and Modi had decided on a vast programme and the Indian diaspora was "a bridge". "We love you," he added. 
"We have decided to cooperate in so many areas.... We are building this future today, between two democracies," the Israeli prime minister said.