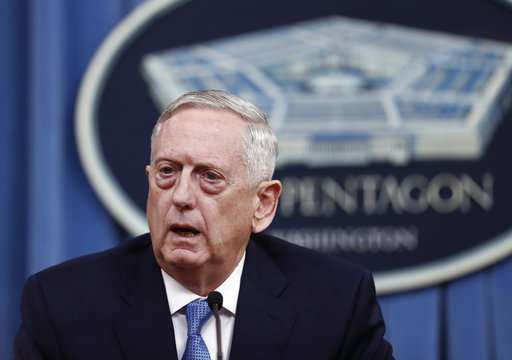 The Pentagon has been pulled up by a powerful US Senate panel for not appointing its point person for America's "key security partner" India to coordinate and expedite bilateral defence cooperation. 
The Senate Armed Services Committee, in its report running into more than 600 pages, has voiced concern over the growing gap between the overarching goals of the Indo-US defence ties. 
The panel, which passed the annual National Defence Authorisation Act (NDAA) 2018, pulled up the Pentagon for not appointing the point person for India in the Department of Defence to coordinate and expedite bilateral defence cooperation. 
Appointing such an individual would bring a refined approach to prioritising defence cooperation and aligning it with missions like maritime awareness and anti-submarine warfare and eventually joint naval patrol of the Indian Ocean, the report said. 
"As a rising economic power and key security partner, it is the committee's judgement that India deserves a seat at the table as the US works with our other key allies and partners to increase resiliency, strengthen deterrence and secure superiority in both operating domains.
  
"Looking ahead to the future of the US' Major Defence Partnership with India, the committee encourages the Department to work closely with India in the cyber and space operating domains at appropriate strategic, operational and tactical levels," the report said. 
The report, keeping in mind that key defence cooperation agreements—Communications Capability and Security Agreement and the Basic Exchange and Cooperation Agreement for Geospatial Intelligence—have not been completed, said the Department of Defence has approached negotiation of these agreements with consistency and good faith, as evidenced in the successful signing of the Logistics Exchange Memorandum of Agreement with India earlier this year. 
The report commended both the Department and the Ministry of Defence for this progress, and hoped to see similar agreement with the two outstanding documents as well.  
Over the last one decade, the defence trade between India and the US has increased from being almost non-existent to more than USD 14 billion. This is expected to increase manifold as India embarks on a major defence modernisation drive. 
During Prime Minister Narendra Modi's visit to the US last month, both the countries pledged to deepen their defence and security cooperation. 
The US and India look forward to working together on advanced defence equipment and technology at a level commensurate with that of America's closest allies and partners, said a joint statement issued after the India-US Summit at the White House. 
US President Donald Trump had said that the security partnership between the US and India is incredibly important.  According to the White House, the United States remains a reliable provider of advanced defence articles in support of India's military modernisation efforts.