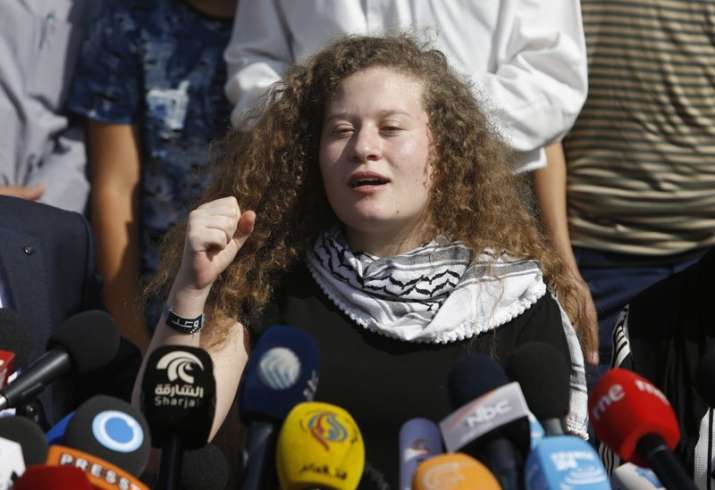 Palestinian teen Ahed Tamimi, who became an international symbol of resistance to Israeli occupation after slapping two soldiers, has been freed from an Israeli prison after eight months. Talking to media after attaining freedom, Tamimi said she now wants to study law to defend her people.
The 17-year-old said that "resistance continues until the occupation is removed," but refrained from saying she would slap soldiers again. The teen, who is on probation, said her eight months in prison were tough and helped her appreciate life.
At an outdoor news conference near her family home, she spoke against the backdrop of a large model of a slingshot that was "loaded" with a pencil rather than a stone, apparently to highlight education as one of the possible Palestinian tactics.
Underlying her case are clashing narratives about Israel's half-century rule over the Palestinians, the extent of permissible Palestinian resistance to it and the battle for global public opinion.
Tamimi's supporters see a brave girl who struck two armed soldiers in frustration after having just learned that Israeli troops seriously wounded a 15-year-old cousin, shooting him in the head from close range with a rubber bullet during nearby stone-throwing clashes.
In Israel, she is seen by many either as a provocateur, an irritation or a threat to the military's deterrence policy — even as a "terrorist." Israel has treated her actions as a criminal offense, indicting her on charges of assault and incitement. In liberal circles, the hard-charging prosecution of Tamimi was criticised as a public relations disaster because it turned her into an international icon.
(With inputs from AP)