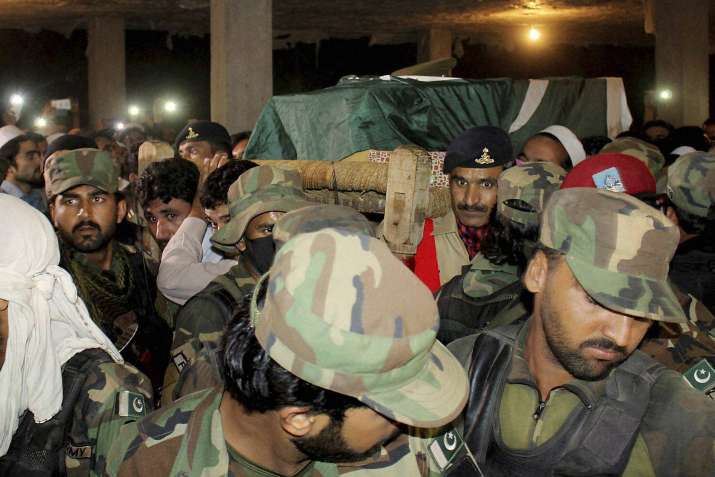 A scathing editorial published in a Pakistan's leading daily has slammed Islamabad in the strongest possible way, blaming it for the dreadful terror attack in Quetta that killed 61 people and also for its 'good terrorist, bad terrorist' policy. 
"Pakistan either fights terrorism, all terrorism, or it does not. No half measures. No favourites...There are no 'good terrorists' or 'bad terrorists' and the Quetta attack is a fundamental policy failure in large part caused by the inability of the Establishment and assorted politicians to read off the same page. Or even work to the same playbook," said the article in The Express Tribune today. 
"It is that failure at the deepest levels of governance that highlights not only the complexity of fighting a war in which the enemy is a shape-changer of surpassing skill, but equally the ambivalence with which that elusive enemy is being fought at a national level. There has been no attempt to create a countervailing narrative," the article read further. 
Pakistan has been criticised globally for protecting people they consider 'good terrorists', that is terrorists who aim their attacks toward India and Afghanistan, rather than at Pakistan. On the other hand, 'bad terrorists' are those who carry out attacks like the one in Quetta yesterday. 
The Express Tribune said that this distinction has to go or the fight against terror will be completely ineffectual. 
This is not the first Pakistani media has raised voice over Islamabad's failure to fight terror, slamming its description of 'good' and 'bad' terrorists, and also bringing out the turf between the Pakistani government and armed forces. 
Earlier this month, an editorial in Nation, a leading Pakistani daily which is believed to be close to the government and the military, asked the civilian and military establishment why no action is being taken against terrorists like Jaish-e-Mohammed's chief Masood Azhar and the Jamaat-ud-Dawah's Hafiz Saeed. 
Few days back, Pakistan's renowned journalist Cyril Almeida was barred from leaving the country fter he reported on a suspected rift between civilian and military leaderships during a crucial meeting in which the ISI was told its support for terrorist groups was leaving the country globally isolated. 
He had written a front-page story in the daily about a rift between Pakistan's civilian and military leaderships over militant groups that operate from Pakistan but engage in war against India and Afghanistan.