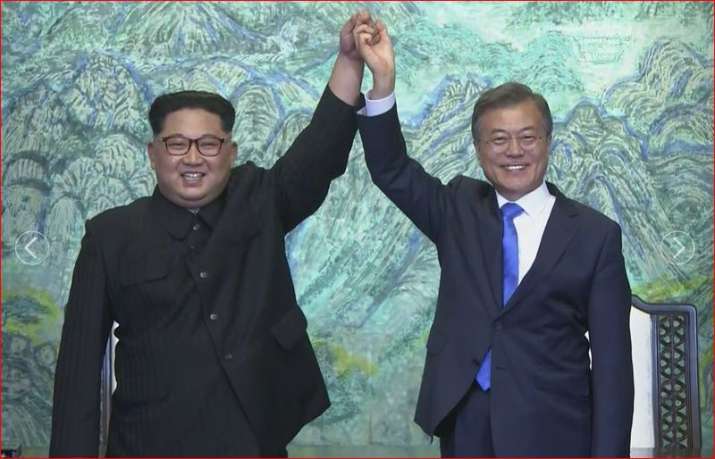 North Korean leader Kim Jong Un today created history when he became the first leader of his country to set foot in South Korea since 1950-53 Korean war.
North Korea's leader Kim Jong Un and South Korean President Moon Jae-in embraced each other at the truce border village of Panmunjom on a day of smiles and handshakes at the first inter-Korean summit in more than a decade.
Striking a conciliatory tone, Kim pointed out that war is no solution as a victory cannot be achieved without pain. He also promised not to "repeat the unfortunate history". 
Here are key takeaways from today's historical meeting between Kim Jong Un and Moon Jae-in:
1. The two leaders pledged to work for the "complete denuclearisation of the Korean peninsula".
2. Kim Jong Un and Moon Jae-in announced that the two countries will work with the United States and China this year to declare an official end to the 1950s Korean war and seek an agreement to establish "permanent" and "solid" peace in its place.
3. After the summit, Kim Jong Un pledged that the two Koreas will ensure they did not "repeat the unfortunate history in which past inter-Korea agreements fizzled out after beginning". 
4. "We hope we will not repeat the mistake of the past. I hope this will be an opportunity for the Korean people to move freely from North to South. We need to take responsibility for our own history," Kim said.
5. The two countries agreed to pursue phased military arms reduction, cease hostile acts, transform their fortified border into a peace zone, and seek multilateral talks with other countries including the United States.
6. "We have waited for this day for a very long time. We are tied by blood and cannot be separated – we are the same country, the same people, and should not be separated by hostility," Kim added.
7. Kim Jong Un invited Moon Jae-in, in an unplanned move, to step briefly across into North Korea, before the two leaders crossed back into South Korea holding hands.
8. The two leaders agreed to hold "regular meetings and direct telephone conversations".
9. In a reference to North Korea's drumbeat of early morning missile tests last year, Kim Jong Un jokingly said that he would make sure not to interrupt Moon's sleep anymore.
10. "We hope we can open a new road towards a new future, and that is why I crossed the demarcation line today. We hope for a new era of peace, and we have reaffirmed our commitment to that," Kim told Moon.
11. The summit meeting between Kim Jong Un and Moon Jae-in took place weeks before the North Korean leader leader is due to meet US President Donald Trump.
12. "We will make efforts to create good results by communicating closely, in order to make sure our agreement signed today before the entire world, will not end as just a beginning like previous agreements before today," Kim said after Panmunjom agreement was signed.
13. "I was excited to meet at this historic place and it is really moving that you came all the way to the demarcation line to greet me in person. A new history starts now. An age of peace, from the starting point of history," Kim Jong Un told Moon Jae-in.
14.  According to an official, Moon told Kim he could "show you scenes far better than this if you come to the Blue House (in Seoul)", with the North Korean leader responding: "Really? I will go to the Blue House any time if you invite me." 
15. In a significant development, the two countries agreed to open a liaison office, stop propaganda broadcasts and leaflet drops along the border, and allow Korean families divided by the border to meet. South Korean President Moon Jae-in agreed to visit Pyongyang later this year.