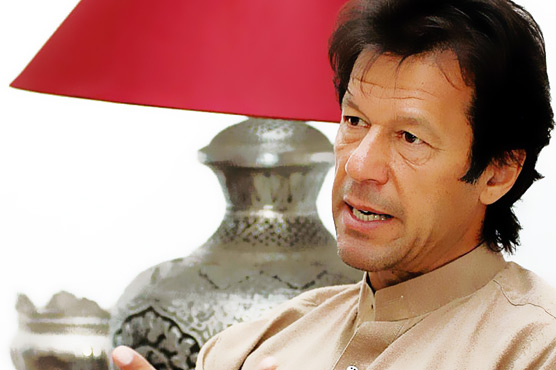 Taking an account of the prevailing situation in his country, Pakistan Tehreek-e-Insaf (PTI) chief Imran Khan today said that Prime Minister Nawaz Sharif had become a security risk for them.
Speaking to media persons outside his Islamabad residence, Imran said that Sharif has become a security risk for the country in the current circumstance as the Prime Minister was only interested in saving himself from the accountability in wake of the 'Panama Papers' revelations.
"His only aim is to save himself from the repercussions of the revelations regarding his corruption in 'Panama Papers' leaks," he said.
Imran Khan claimed India was involved in creating chaos in Pakistan to sabotage moves against corruption, Pakistan Today reported.
"A new doctrine has originated in India which aims to implode Pakistan because they have failed to defeat us militarily," Imran told journalists as he was about to leave for Quetta to condole the deaths of security officials in Tuesday's militant attack on the city's Police Training Centre.
The PTI chief said Pakistan's nuclear-armed arch rival did not want an inside political reform movement to succeed.
"When the Balochistan Chief Minister is saying that India was involved in sabotaging law and order in the province, then why does our Prime Minister not raise his voice on the issue on global forums," he asked. 
"The PM failed to raise the issue of RAW's (Research and Analysis Wing) terror financing in Pakistan and the arrest of its agent Kulbhushan Yadav from Balochistan during his UN visit."
The PTI leader demanded the government highlight the names of those government officials who were involved in leaking crucial information regarding a high-level security meeting in Islamabad.
Two days ago, the PTI leader had warned that Nawaz Sharif would be responsible if a "third-force" stepped in as a result of his party's lockdown of the Pakistani capital to press the demand for Sharif's resignation on corruption charges after the publication of 'Panama Papers'.
Though the cricketer-turned-politician did not name the "third force", his statement seemed to refer to the powerful military establishment, a key player in Pakistani politics.
Imran Khan accused the government of defaming the Pakistan Army on the pretext of PTI's protest. 
'Panama Papers' are not accusations but evidence of the Prime Minister's corruption, Imran claimed.
(With IANS inputs)