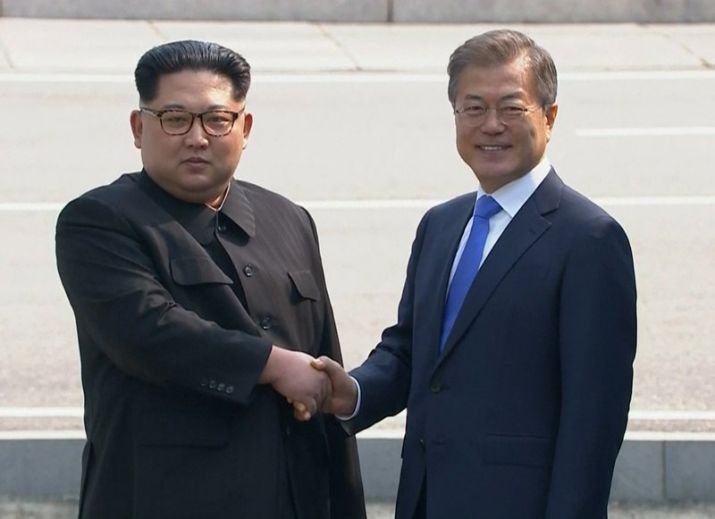 North Korea's state media on Monday urged South Korea to expedite efforts to sign a peace treaty to formally end the Korean War as agreed during a bilateral summit in April between the two countries.
South Korean President Moon Jae-in and North Korean leader Kim Jong-un had signed the Panmunjom declaration after the historic summit on April 27.
In the declaration, the two countries, which have been technically at war for over six decades now, had agreed to denuclearize the peninsula and develop an agreement to replace the 1953 multilateral Korean Armistice Agreement, which includes the US, Efe news reported. 
"Given that the South Korean government also has an obligation to carry out what was agreed upon in the Panmunjom Declaration, it should not sit idle on the issue of declaring an end to the war," Uriminzokkiri, one of the main propaganda website of the North Korean regime, said in an editorial, just days before the 65th anniversary of the ceasefire on Friday.
"It is a historic task that cannot be delayed anymore to build a solid peace regime by ending the current abnormal state of armistice on the Korean Peninsula," the editorial added.
Meari, another propaganda website run by Pyongyang, urged Seoul to do "its part" to formally end the war.
Pyongyang considers the peace treaty as integral to preventing an invasion by the US and ensure the regime's survival.
North Korea has already criticized the US Secretary of State Mike Pompeo for not discussing the peace treaty during his visit to the country in early July.
Experts have suggested that the signing of the document, which could also include Beijing -- as Chinese volunteer forces were part of the 1953 Armistice -- could be key to North Korea ending its nuclear weapons program.