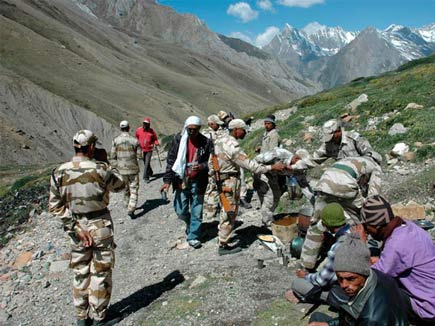 Holding India responsible for the border stand-off in Sikkim, the Chinese foreign ministry on Tuesday said that it would not allow pilgrims from India to visit Mansarovar, in Tibet, until the situation is resolved. 
Beijing said that the stand-off was caused because the Indian troops who "obstructing normal activities of the Chinese frontier forces in the Donglang area in Sikkim recently after which the Chinese side took counter-measures".
On the contrary, Times of India cited Indian sources saying that it was soldiers from the People's Liberation Army who intruded into Indian territory, destroyed two bunkers near the Lalten post and abruptly stopped the batch of pilgrims headed for Kailash Mansarovar in Tibet. 
Meanwhile, China said that it is in talks with India over the denial of entry to 47 Indian pilgrims who were scheduled to travel to Kailash Mansarovar in Tibet through the Nathu-la pass in Sikkim. 
China last week refused entry to 47 Indian pilgrims who were scheduled to travel to Kailash Mansarovar through the  Nathu La pass in Sikkim. The pilgrims were scheduled to cross over to the Chinese side on June 19 but had failed to do so due to inclement weather.
They had waited at the base camp and tried to cross again on June 23 but were denied permission by the Chinese officials. 
In New Delhi, External Affairs Ministry Spokesperson Gopal Baglay had said that some difficulties were being experienced in the movement of pilgrims through Nathu La and that India is taking up the matter with China.    
The development comes amid tensions in bilateral ties between the two countries over a host of issues including the CPEC and India's NSG bid. Earlier this month, Prime Minister Narendra Modi had met Chinese President Xi Jinping on the sidelines of the Shanghai Cooperation Organisation (SCO) Summit in Kazakh capital Astana.