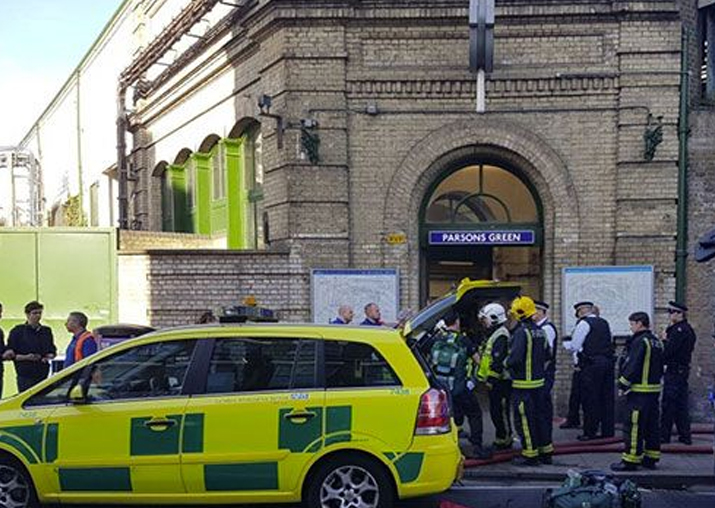 The London police have confirmed they are treating the explosion, that occurred onboard the District Line Tube train at Parsons Green station in London at around 8.20 am local time, as a 'terrorist' incident, British media reported. Prime Minister Theresa May has called an emergency meeting following the blast. Reports said a container exploded on the packed London Tube causing panic. Witnesses said they saw flames coming out of a white bucket inside a coach. 
Officers from the Met's Counter Terrorism Command said that they are investigating the matter. Deputy Assistant Commissioner Neil Basu, the senior national coordinator for CT policing, declared it a terrorist incident. Officers from the Metropolitan Police Service and British Transport Police attended the scene, along with colleagues from the London Fire Brigade and London Ambulance Service.
News agency Reuters quoted Scotland Yard as saying that blast was a detonation of an improvised explosive device.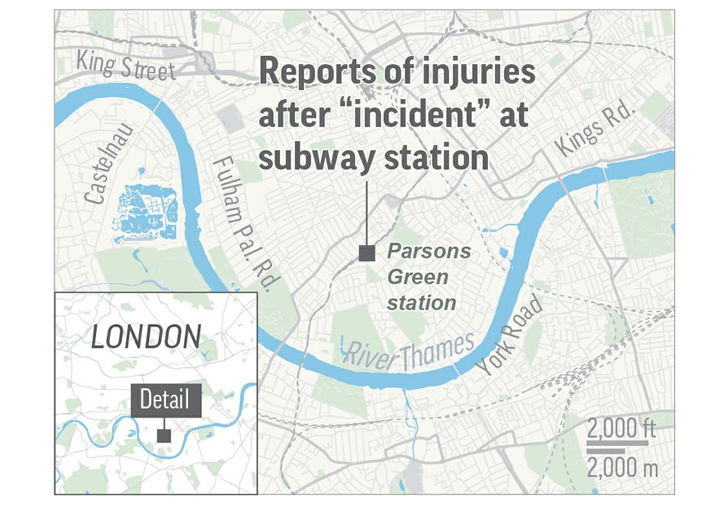 Commuters reported passengers have suffered facial burns. Passengers are also reported to have suffered injuries in a stampede that ensued. Widespread panic gripped Parsons Green Station after the incident that has left about 20 people injured.
According to Associated Press, London Ambulance Service said that 18 people have been hospitalized and that none have serious or life-threatening injuries.
Transport for London said it was investigating the incident at Parsons Green. "Customers travelling between Wimbledon and Earl's Court are advised to use alternative routes," it said.
These photos apparently show what caused the explosion on the #London underground. pic.twitter.com/wFnVztnZrd

— Strategic Sentinel (@StratSentinel) September 15, 2017
A Metropolitan Police spokesman said, "We are aware of an incident at Parsons Green Tube station. Officers are in attendance. More info ASAP".
Explosion on Parsons Green district line train. Fireball flew down carriage and we just jumped out open door. pic.twitter.com/pGbfotbfsJ

— Rigs (@RRigs) September 15, 2017
Several stations have been shut down and police have barricaded the Parsons Green station.
Witnesses reported shouting and screaming on the station in the aftermath of the blast. 
Explosion in #ParsonsGreen undergound station #London. Many injured.

Terrorism is part and parcel of city life - Mayor Sadiq Khan pic.twitter.com/DcgjZgoqSR

— Hari SP (@Hari_Nuranian) September 15, 2017
The Tube service has been partially suspended. Metropolitan and British Transport police forces, including armed officers, were at the scene, along with the London ambulance service, though none was immediately able to provide further details on what had happened.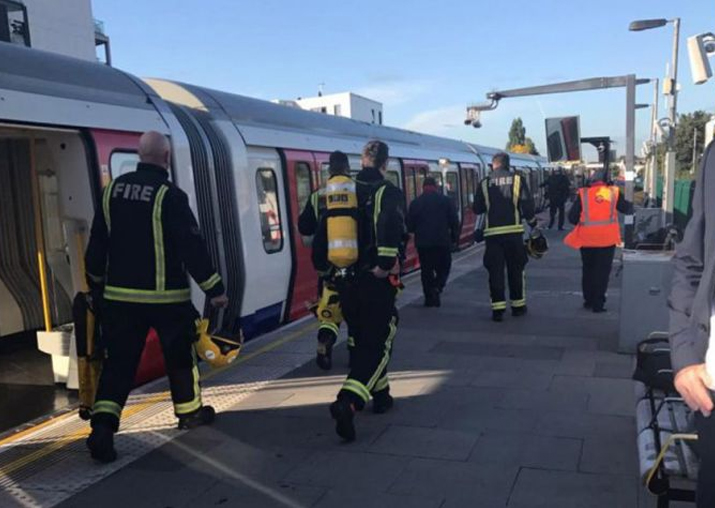 A commuter whose train had just left the Parsons Green station in southwest London says there was panic after a woman on the platform saw what appeared to be an explosion. Richard Aylmer-Hall said he saw several people injured, apparently trampled as they fled.
I'm safe - just had to run for my life at #ParsonsGreen station - huge stamped, lots injured. Not sure why - fire/explosion mentioned. pic.twitter.com/zRvRPWOuzA

— Emma (@EmmaStevie1) September 15, 2017
"There was a woman on the platform who said she had seen a bag, a flash and a bang, so obviously something had gone off," he said. "Some people got pushed over and trampled on, I saw two women being treated by ambulance crews." He said he did not believe anyone was hurt by the actual device.
The London ambulance service said multiple crews had been dispatched.
One eye-witness said she saw a woman burnt from head to toe being taken into an ambulance.
Police confirmed the incident Friday morning. Few details were released as emergency services rushed to the scene. The station was closed.
Video of bucket on fire Parsons Green pic.twitter.com/K4ZFk0TZm5

— craig ursell (@craigeee1) September 15, 2017
The incident happened during rush hour when the Underground system is crowded. Passengers were advised to use alternate routes.
London Fire Brigade said they were called to the scene at 8:21 a.m. Friday. The London Ambulance Service said it was working with police on the scene.
The area is a densely populated and houses several buildings and offices.