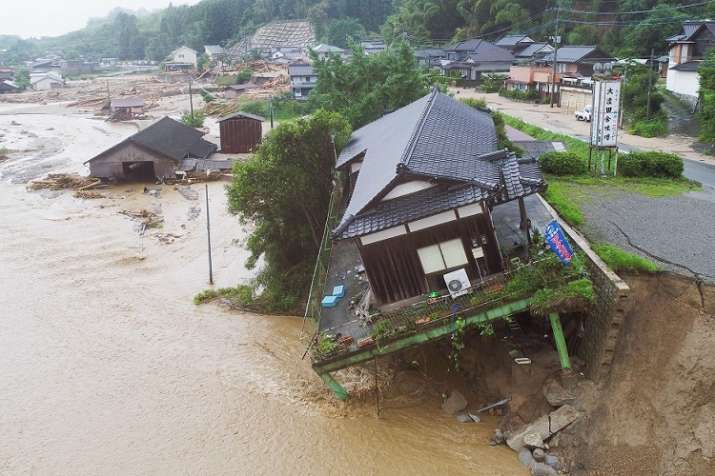 At least 50 people have died, while almost a dozen remain missing as torrents of rainfall and flooding battered a widespread area in southwestern Japan on Saturday. The Japan Meteorological Agency (JMA) has issued the highest possible alert for Okayama, Nagasaki, Saga, Tottori, Hiroshima, Hyogo, Gifu and Fukoka, the local media reported. As per the local media reports, the water in worst-hit areas had reached as high as 5 metres (16 feet).
The rescue teams including the self-defense forces, police and firefighters have widened their search for the trapped or injured people, mainly in the prefectures of Hiroshima, Ehime and Okayama, where dozens of people have gone missing.
Military water trucks were rushed to areas where water systems were no longer working. Troops in camouflage outfits helped people and pets reach dry land on small military boats, Okayama prefecture said.
The authorities have issued evacuation orders that have affected over four million people. Nearly 650 members of the armed forces have been deployed for rescue operations, with an additional 21,000 on standby, said the defence minister.
The Japan Meteorological Agency, in a press conference, has warned that the earth had softened due to the rainfall, which has raised the risk of landslide-related accidents. The JMA has forecasted record rainfall till Sunday and has warned that the precipitation could reach up to 8 cm per hour in some regions.