Follow us on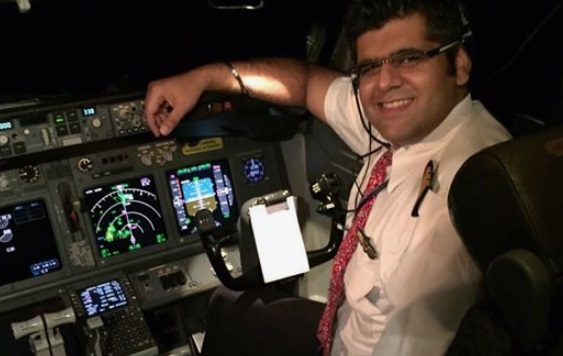 An Indonesian Lion Air passenger plane crashed on Monday 13 minutes after take-off from the capital Jakarta.  Singaporean media said that the flight was travelling from Jakarta to Pangkal Pinang. Indonesian authorities said that the flight lost control with the air traffic controllers at around 6:33 am.
"It has been confirmed that it has crashed," Yusuf Latif, a spokesman for the national search and rescue agency told the media. 
The scheduled Flight JT-610 was headed to Pangkal Pinang, the main city in the Bangka Belitung Islands from the Indonesian capital.
It lost contact with ground control a few minutes after take-off, as it was crossing the sea, the BBC reported.
The captain of the flight was Bhavye Suneja, a resident of New Delhi. His Linkedin profile said he worked at Lion Air since March 2011, and had 6,000 flight hours. He was also a trainee pilot with Emirates from September and December 2010.
WATCH VIDEO:
HERE ARE THE LATEST UPDATES ON THE INDONESIAN LION AIR PASSENGER FLIGHT CRASH
3:32 pm: Indian embassy in Jakarta confirms death of Indian pilot Bhavye Suneja in Lion Air Plane crash.
2:00 pm:  Indonesia's Lion Air says it has lost contact with a passenger airplane flying from Jakarta to domestic destination
 12: 57 pm: Suneja lived in Jakarta with his wife – they were married two years ago – but the rest of the family is from Delhi.
12:55 pm: Indonesian president Joko Widodo has expressed his condolences to the families of victims in a televised address. He says the government is focused on the search and rescue operation currently underway.
12: 50 pm: Lion Air have released the names of the flight's captain, co-pilot and full crew.
The captain was Bhavye Suneja, a resident of New Delhi. His Linkedin profile said he worked at Lion Air since March 2011, and had 6,000 flight hours. He was also a trainee pilot with Emirates from September and December 2010.
The co-pilot Harvino had more than 5,000 flight hours.
The cabin crew were Shintia Melina, Citra Noivita Anggelia, Alviani Hidayatul Solikha, Damayanti Simarmata, Mery Yulianda, and Deny Maula.
Lion Air have also turned their website and social media accounts to black-and-white.
Further details said the aircraft had registration number PK-LQP, it was made in 2018 and started its operation at Lion Air on 15 August 2018.
12:43 pm: Lion Air CEO Edward Sirait said that the plane that crashed today had suffered  'technical issue' on Sunday. 
Edward Sirait told reporters the plane was cleared to fly "according to procedure" but did not specify what the "technical issue" was.
"This plane previously flew from Denpasar to Jakarta," he said. "There was a report of a technical issue which had been resolved according to procedure."
Sirait said Lion had 11 aircraft of the same model – the new Boeing 737 MAX 8 – and none had suffered the same problem.
He said Lion had no plans to ground the rest of its MAX 8 fleet.
12:38 pm: Indonesia's Search And Rescue Agency has released an official statement which says the reason for the crash is still unclear.
It also confirms that the emergency beacon did not emit a distress signal, despite being certified as working until August 2019.
"The cause of the crash of the 737 Lion Air Boeing plane on the Jakarta-Pangkal Pinang route is still a big question," it says.
"The Emergency Local Transmitter beacon on the plane did not emit a distress signal. Thus, the crash of the plane was not monitored by the Medium Earth Orbital Local User Terminal at the Basarnas [Search and Rescue] head office.
"The aircraft beacon has been registered and declared good until August 2019. The crash location is around the coordinates 05.46.15 S - 107.07.16 E. 34 nautical miles from the Jakarta SAR office."
The release repeats comments earlier that investigators will not speculate on the cause of the crash until they recover the black box.
12:20 pm: Australian government officials have been formally instructed not to fly on Lion Air, according to an email sent today.
The advice sent by Smartraveller – a service of the Department of Foreign Affairs and Trade – applies to all Australian government contractors as well.
"Following the fatal crash of a Lion Air plane on 29 October 2018, Australian government officials and contractors have been instructed not to fly on Lion Air. This decision will be reviewed when the findings of the crash investigation are clear".
12:10 pm: In a statement released after the Indonesia crash, Boeing said the company "stands ready to provide technical assistance to the accident investigation."
12:00 pm: The airplane model of the Lion Air flight which crashed today had only been in service globally for 18 months and boasted of being the "world's most reliable airplane". The 737 MAX 8 model was first operated for a commercial flight in May 2017 by Malindo Air but has since been adopted by airlines around the world
The plane is a variant of the Boeing 737 Max series, which is the fastest selling airplane in Boeing history. Worth upwards of £70m apiece, the Max 8 version has an air range of 6,570 km, a passenger capacity of up to 210 passengers and boasted of reducing carbon emissions by 20%, as well as reducing cabin noise by 40%.
The planes are built at Boeing's factory in Renton, Washington in the US.
It is a popular model which has been purchased by airlines across the world, including American Airlines, United Airlines, Ryanair, Jet Airlines, FlyDubai, Norwegian Air, Iceland Air, SilkAir, Turkish Airlines, Korean Air, Air Canada and Malaysia Airlines among many others.
Back in 2012, Lion Air were among the first to finalise a a $22.4bn order with Boeing which included 201 of the 737 MAX airplanes. But as of April this year, only eight of the planes had been delivered to Lion Air.
According to company reports, the Boeing 737 MAX had received 4,783 firm orders from over 100 countries as of September.
11:50 am: Lion Air's CEO, Edward Sait, has revealed that the plane had reported a technical problem on Sunday night.
The jet was flying from Denpasar to Jakarta, Sait said, when pilots reported a problem with the plane. But he stressed it was cleared by engineers and was airworthy when it took off on Monday morning.
11:37 am: The governor of Jakarta, Anies Baswedan, has offered his condolences. "Our prayers for the victims and their families," he said.
Australia's ambassador to Indonesia says he is "making enquiries to determine if any Australians are affected".
No information about those on board has been released, apart from the fact that 3 were children and 20 were Indonesian officials.
11:20 am: Indonesia have now confirmed that air control approved the return of the flight.
"The (traffic) control allowed that, but then it lost contact," Yohanes Sirait, a spokesman for the country's air navigation authorities, told Reuters.
Meanwhile, divers from a special rescue team continue their efforts.
10:50 am: The Indonesia Ministry of Transportation has confirmed it has located the wreckage of Lion Air Flight JT 610.
The Boeing Company is deeply saddened by the loss of Flight JT 610. We express our concern for those on board, and extend heartfelt sympathies to their families and loved ones.
Boeing stands ready to provide technical assistance to the accident investigation. In accordance with international protocol, all inquiries about aviation accident investigations must be directed to the Indonesia's National Transportation Safety Committee (NTSC).
10:41 am: More footage of debris released. Sutopo Purwo Nugroho, spokesman for the disaster relief agency, says rescuers have spotted cellphones and buoys.
10:37 am: Diving missions are underway at the following coordinates.
10:29 am: The number of people on board has been updated to 189, according to Reuters and local media.
The new number consists of: 178 adult passengers, 1 child, 2 babies, 2 pilots and 6 flight attendants (previously 5).
10:25 am: Authorities have confirmed the aircraft had been newly purchased, and operational for less than three months.
Soerjanto Tjahjono, chairman of the National Transportation Safety Committee, told a press conference in Jakarta the plane that crashed was received by the budget airline this August. 
Before losing contact with air traffic control less than 15 minutes after takeoff, the pilot reportedly requested to return to Soekarno Hatta airport on the outskirts of the capital, Jakarta.
As search and rescue teams scour the location and continue to find bits of debris – photos have emerged showing what appears to be part of the plane exterior, and personal belongings such as shattered mobile phones – distraught family members have started to gather at the airport in Pangkal Pinang, on Bangka island, where the plane was scheduled to land. 
10:22 am: Search and rescue have also confirmed this image of debris is from the crash site.
10:20 am: Indonesia's search and rescue agency have made their first official tweets on the incident.
They took a team of 46 people to the crash site, and have discovered ID cards and drivers licenses they believe belong to passengers.
10:07 am: An Indonesian official says no cause can be determined until they retrieve the black box, Reuters report.
Soerjanto Tjahjon, an official at the safety transport committee, said Indonesia would need to recover the black box, cockpit voice recorder and data flight recorder.
"We will collect all data from the control tower. The plane is so modern, it transmits data from the plane and that we will review too. But the most important is the black box."
10:01 am: The pilot and co-pilot of the plane had a combined total of 11,000 hours flying time, Lion Air has told Reuters.
09:50 am: Here is some information on the crisis centres and information lines for those affected:
09:49 am: Today's crash is Indonesia's deadliest airline disaster since Indonesia AirAsia Flight QZ8501, which crashed in December 2014, killing all 162 on board.
09:47 am: Lion Air JT 610 had requested to return to Jakarta airport before disappearing from radar.  Search and rescue is focused on the sea off the coast of Indonesia
09:43 am: Indonesia's disaster agency spokesman Sutopo Purwo Nugroho posted more images of debris of the Lion Air passenger flight on Twitter.
09:40 am: The chief executive of Lion Air, Edward Sirait, has refrained from commenting so far. He told Reuters earlier today "we are trying to collect all the information and data" before speaking.
He said the company would hold a press conference later today.
Lion Air is a fast-growing, low-cost carrier, and today's crash is the first accident reported to involve the Boeing 737 MAX 8.
09:37 am: Indonesia's finance ministry says 20 officials were on board the Lion Air flight when it crashed.
Spokesman Nufransa Wira Sakti confirmed the number, as reported by Bloomberg.
09:27 am: The waters where JT610 has crashed are roughly 30-35 metres deep, according to the head of Indonesia's search and rescue agency.
The plane crashed into Karawang Bay, two nautical miles from where the plane lost contact with aircraft control, said Muhammed Syaugi.
"On the sea surface we found debris," he said.
Singapore's Straits Times are also reporting that the plane had requested a return to base before it lost contact.
09:25 am: Debris and aircraft seats – thought to be from flight JT610 – have been found near an offshore refining facility near the crash, according to the state energy firm Pertamina, and reported by Reuters.
09:22 am: Boeing have confirmed they are aware of the crash.
The model – a Boeing 737 MAX 8 – was a newly launched replacement for the commonly-used 737, and was first introduced globally in 2017.
The Lion Air plane that crashed today had only been delivered to the airline two months ago in August.
09:21 am: Preliminary data from Flightradar24 shows the plane went through a sharp drive towards the sea, according to Reuters.
"The aircraft climbed to around 5,000 feet (1,524 m) before losing, and then regaining, height, before finally falling towards the sea. It was last recorded at 3,650 feet (1,113 m) and its speed had risen to 345 knots," the agency reported.
Muhmmad Syaugi, the head of the search and rescue agency said: "We don't know yet whether there are any survivors. We hope, we pray, but we cannot confirm."
09:20 am: Reports received at Tanjung Priok port in North Jakarta indicate the remains of the plane had been spotted.
Indonesia's disaster agency spokesman posted video of some debris on Twitter.
09:13 am:The Max 8 is a significantly updated version of the single-aisle 737 from Boeing. It has CFM Leap-1B engines, larger cockpit displays, new advanced technology split winglets and a new tailcone. Lion Air unit Batik Air was launch operator for the Max 8 in 2016. 
09:07 am: Indonesia transport ministry official says crashed Lion Air flight was carrying 188 people, including crew, reports Reuters
09:00 am: Indonesia energy firm Pertamina official says debris, including plane seats, found near its offshore facility in Java sea, reports Reuters
08:55 am: Lion Air plane had 189 on board and had requested a return to base before disappearing from radar: The Straits Times
08:47 am: Flight tracking website Flightradar24 tweeted "preliminary data show an increase in speed and decrease in altitude at last transmission." They posted an image of the flight track after takeoff, showing JT-610 looping south on take-off and then heading north before the flight path ended abruptly over the Java Sea, not far from the coast.
08:44 am: The accident is the first to be reported that involves the widely-sold Boeing 737 MAX, an updated, more fuel-efficient version of the manufacturer's workhorse single-aisle jet. The first Boeing 737 MAX jets were introduced into service in 2017.
08:40 am: There are over 180 passengers on board the plane, including two infants, one child, two pilots and five flight attendants, reports Straits Times 
A tugboat notified the Tanjung Priok sea port's Vessel Traffic Service (VTS) that it spotted a plane plunging into the water on Monday morning, according to Jakarta-based Elshinta radio.
08:37 am: The flight was last recorded in the Thousand Islands regency, an archipelago north of Jakarta, reports CNN. 
08:20 am: According to Flight Radar 24, a Sweden-based flight monitoring agency, the ADS-B data that was transmitted by the aircraft shows an increase in speed and decrease in altitude at last transmission.
08:19 am: The flight was operated by Boeing 737 MAX 8 registration PK-LQP. The aircraft was delivered to Lion Air in August of this year. It is powered by two CFM LEAP-1B engines. According to Flight Radar 24, the Max 8 is a significantly updated version of the single-aisle 737 from Boeing. It has CFM Leap-1B engines, larger cockpit displays, new advanced technology split winglets and a new tailcone.
08:18 am: An Indonesian Lion Air passenger plane goes missing shortly after taking off from Jakarta, an aviation authority official says, adding "Lion Air JT 610 has lost contact " and a search and rescue operation is underway
08:17 am: The flight Lion JT 610 took off from Jakarta's Soekarno-Hatta International Airport at 06:10 am (local time) and was scheduled to land in Pangkal Pinang at 7:20 am. 
Indonesia's disaster agency posted photos online of a crushed smartphone, books, bags and parts of the aircraft fuselage that had been collected by search and rescue vessels that have converged on the area.
Spokesman Sutopo Purwo Nugroho said the aircraft, on a 1 hour and 10 minute flight to Pangkal Pinang on an island chain off Sumatra, was carrying 181 passengers, including one child and two babies, and seven crew members.
Indonesian TV broadcast pictures of a fuel slick and debris field.
The National Search and Rescue Agency said the flight ended in waters off West Java that are 30 to 35 meters (98 to 115 feet) deep.
The agency's chief Muhammad Syaugi told a news conference that divers are trying to locate the wreckage.
The Boeing 737-800 plane departed Jakarta, about 6.20 a.m. for Pangkal Pinang. Data for Flight 610 on aircraft tracking website FlightAware ends just a few minutes following takeoff.
The Lion JT 610 was Boeing 738 flight with a capacity of 168 passengers. However, it was not immediately clear how many passengers and crew were on board the flight at the time of the crash. 
Meanwhile, authorities have commenced  a search and rescue operation for the missing flight. 
"It's true that Lion Air JT 610 has lost contact. We have forwarded the information to search and rescue teams," AirNav Indonesia spokesman Yohanes Harry Douglas said in a statement.