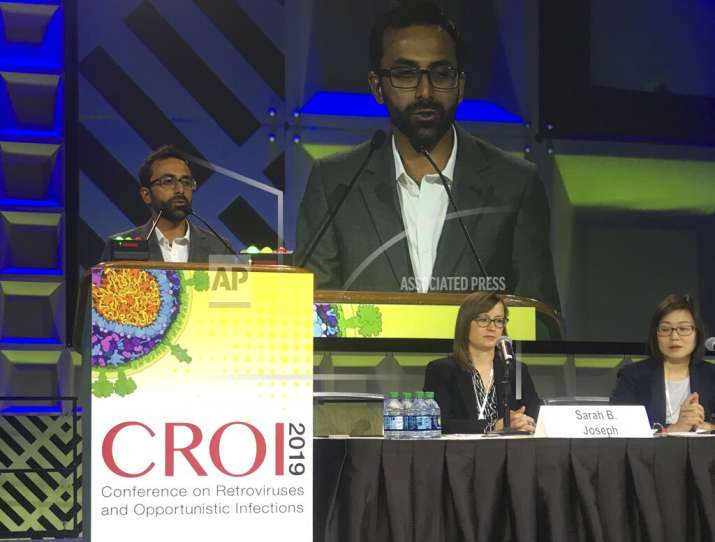 In what can be a big leap in medical science, doctors in London have said that a patient appears to be free of the virus that causes AIDS after a stem cell transplant, the second success including the "Berlin patient." Indian-origin doctor Professor Ravindra Gupta, lead researcher, University College London presented the case Tuesday at an HIV conference in Seattle. 
"We're describing an individual who was HIV positive and who had stage-four Hodgkin's lymphoma and had failed multiple lines of chemotherapy and then had to have an allogeneic stem cell transplantation procedure. And fortunately, donor registry found a donor that had the Delta 32 mutation in both copies, so replicating the Berlin patient's profile."
Who is Professor Ravinder Gupta?
Professor Ravinder Gupta is currently the lead researcher in University College London. His profile page says Professor Ravinder Gupta is a senior fellow in clinical science. He runs two research labs that focuses on host-pathogen and drug-pathogen interactions to inform HIV treatment and curative strategies.
Gupta's research career is focused on emergence of global HIV drug resistance. Having completed his specialist medical training in infectious diseases and a Masters in International Public Health, he now works on clinical/epidemiological aspects of drug resistance as well as in vitro investigation of susceptibility to protease inhibitors, a major class of drugs now being widely used to tackle first line treatment failure globally.
First success 
The therapy had an early success with Timothy Ray Brown, a US man treated in Germany who is 12 years post-transplant and still free of HIV. Until now, Brown is the only person thought to have been cured of infection with HIV, the virus that causes AIDS, news agency AP reported. 
Such transplants are dangerous and have failed in other patients. They're also impractical to try to cure the millions already infected.
Doctors say it could lead to a simpler approach that could be used more widely. Brown sat in the front row, stood for a round of applause and shook hands with lead researcher Ravindra Gupta of University College London after Gupta presented details on the London patient.
"Our individual is in relatively good physical health. And recovered very well after the transplant. Obviously he was sick during the procedure and hospitalized. But since then he's made a very good recovery. And is leading a full and relatively normal life." said Professor Ravindra Gupta.
The patient has not been identified. He was diagnosed with HIV in 2003 and started taking drugs to control the infection in 2012. It's unclear why he waited that long. He developed Hodgkin lymphoma that year and agreed to a stem cell transplant to treat the cancer in 2016.
"So yes I think it is a matter of time. I think in another six months to a year things will be clearer." said Professor Gupta, lead researcher.
Stem cell transplants typically are harsh procedures which start with radiation or chemotherapy to damage the body's existing immune system and make room for a new one. There are complications too. Brown had to have a second stem cell transplant when his leukemia returned.
Compared to Brown, the London patient had a less punishing form of chemotherapy to get ready for the transplant, didn't have radiation and had only a mild reaction to the transplant.
(Inputs from AP)