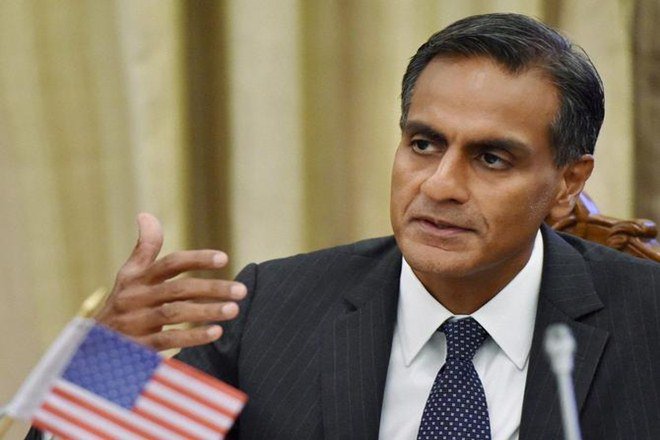 US Ambassador to India Richard Verma has said that India would not lose its sovereignty and strategic autonomy even after acquiring the status of USA's 'Major Defence Partner'.
"This has nothing to do with scrutiny or losing one's sovereignty. It just implies better defence ties and greater co-operation. India and the US are already part of the Defence Technology and Trade Initiative (DTTI) and a special cell for this has been created in the Pentagon. India is the only country with which the US has this agreement for sophisticated science and technology co-operation," Richard Verma told The Times of India.
"Earlier this year, India and the US also signed the bilateral Logistics Exchange Memorandum of Agreement (LEMOA) that facilitates support for troops of both countries when they are on visits for joint exercises. When Indian Air Force (IAF) pilots fly to Alaska for Red Flag or when the US forces arrive in India for some other exercise, their needs like refuelling of aircraft and ships and fooding are taken care of without drawing up separate agreements every time," he added.
CPI(M) General Secretary Sitaram Yechury has written to Prime Minister Narendra Modi seeking clarifications on this deal.
In his letter, Yechury alleged that this deal is a significant departure from India's longstanding policy on defence relations.
Richard Verma also said that Indo-US relations would continue to remain the same even after Donald Trump takes over as President of the US.
"Relations are now witnessing an upward trajectory. The last two years have been the best for Indo-US relations. Success begets success so long as we continue to work towards better ties," the US Ambassador told TOI.