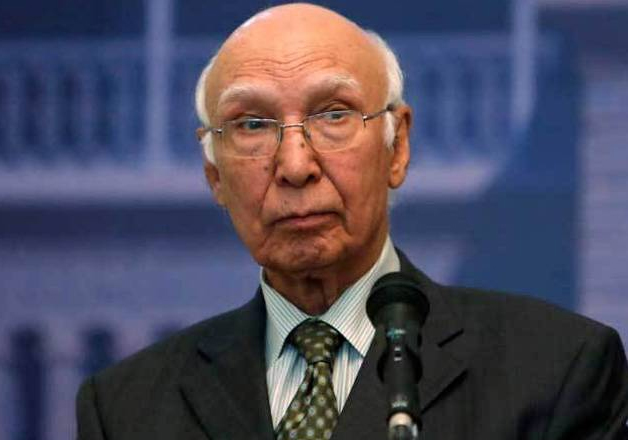 India's offensive on the Indus Waters Treaty has sent flutters down Pakistan's spine, with the country's top diplomat Sartaj Aziz saying that his government will approach the International Court of Justice if India decides to suspend the 58-year-old Indus Waters Treaty. 
"The international law states that India cannot unilaterally separate itself from the treaty," Aziz, Advisor to Prime Minister Nawaz Sharif on Foreign Affairs, said while briefing the National Assembly on the issue.
Aziz further noted that the treaty was not suspended even during the Kargil and the Siachen wars.
Aziz's reaction comes in the backdrop of PM Narendra Modi chairing a high-level meet in New Delhi on Monday to review the treaty following the Uri terror attack that killed 18 jawans.
Sources said that the Prime Minister, while taking a tough stand, said that 'blood and water cannot flow together'. 
Under the treaty, which was signed by Prime Minister Jawaharlal Nehru and Pakistan President Ayub Khan in 1960, water of six rivers - Beas, Ravi, Sutlej, Indus, Chenab and Jhelum - were to be shared between the two countries. The treaty, brokered by the World Bank, is often considered to be one-sided and there has been growing clamour for a relook. 
Pakistan's atrocities against Baloch people have gained world's attention in recent times with India raising the matter at several levels including the UNGA.
On Tuesday, India's External Affairs minister Sushma Swaraj came down hard on Pakistan for its support and export of terror as a matter of state policy. Swaraj also called upon the international community to isolate countries that do not believe in clamping down on terror. 
During her address, Swaraj also gave a point-by-point rebuttal on Pakistani Prime Minister Nawaz Sharif's statement to the UN General Assembly. "We extended friendship and we got in return was Uri and Pathankot," she said, highlighting Pakistan's double standards.
The minister also highlighted the human rights violations in Balochistan as well as the ease with which terrorists are harboured in Pakistan.