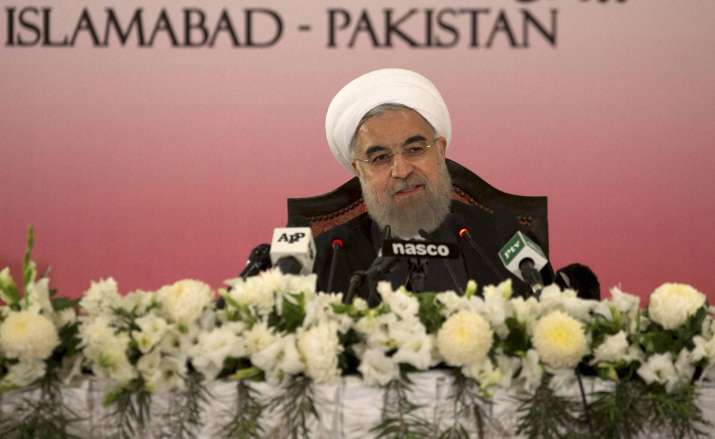 Islamabad: In what may be viewed as a snub to the Pakistan Army, Iranian Pesident Hassan Rouhani has dismissed claims made by Islamabad, that the issue of Indian intelligence agency RAW was discussed with him.
Rouhanai, who was on a two day visit to Pakistan,was replying to a question regarding the claims made earlier by the Pakistani government about discussing the issue of Research and Analysis Wing's (RAW) involvement in Pakistan's internal affairs with the Iranian president.
He said this while addressing media men after his meeting with Chief of Army Staff (COAS) General Raheel Sharif at his hotel on Saturday.
Rouhani denied having such a discussion and said, " Along with Pakistan, India is also Iran's friend and whenever Iran and Pakistan come closer, rumours begin to swirl."
Earlier, The director general of Inter-Services Public Relations (ISPR), Lt Gen Asim Bajwa, shared the text of Pakistan army General Raheel Sharif's meeting with the Iranian president.
"There is one concern that RAW is involved in Pakistan, especially in Balochistan, and sometimes it also uses the soil of our brother country Iran," read the text of meeting shared by Bajwa.
The Pakistani media had described an Indian national, Kulbhushan Jadhav as a RAW agent, who was arrested in Pakistan's Balochistan Province carrying a passport in the name of Hussain Mubarak Patel from Maharashtra with an Iranian visa. It also claimed that authorities have recovered travel documents and multiple fake identities.
Rouhani's dismissal underscores the growing Indo-Iran strategic ties ahead of Foreign Minister Sushma Swaraj's trip to Tehran mid-April to kickstart cooperation across sectors, from energy to connectivity. A visit by a top Indian leader to Tehran is also not ruled out later in the year.